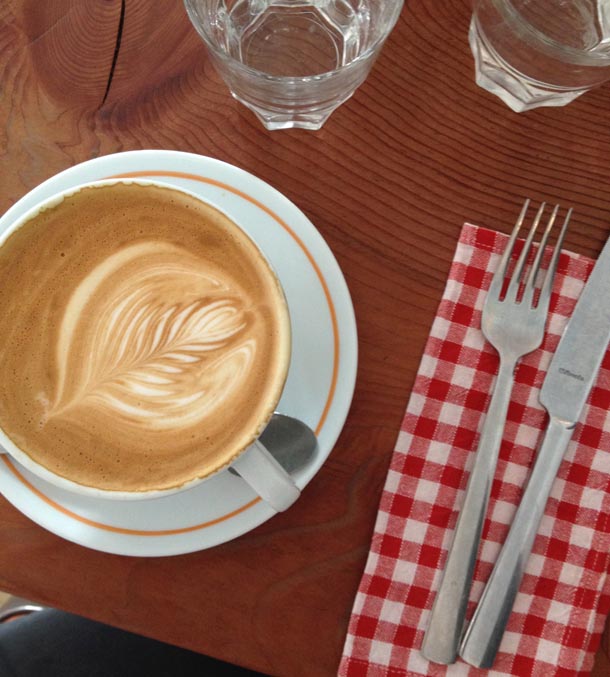 I have to tell you, the more I thought about this list, the harder it was to narrow down. I think there could actually be about 50 cafes in Dublin that are great for coffee. But Michael and I have become somewhat painful coffee snobs in the last while, so these are our six go-to cafes we hit up when we're looking for a coffee fix. Neither of us drink a lot of coffee, maybe one cup each per day, so when we do we want it to be delicious. These six are so delicious Michael is usually tempted to order one for the road and meanwhile, I always try to drink as slowly as possible and savor every sip.
Six Dublin Cafes for a Coffee Snob
Brother Hubbard – I've raved about Brother Hubbard before, their hot chocolate is still very high on my list (there's another post I should write while it's still winter!) of best in Dublin. They use Hasbean coffee beans and every cup is made with two shots. If you're not a two shot person, you can ask for one shot, and they're very nice if you do. I'm pretty sensitive to caffeine, so I always ask for one shot and they never give me coffee impostor dirty looks!
Coppa – If you know me, I'm sure you're bored of me going on and on about Coppa, so I will keep this one brief. They use Badger & Dodo beans, which are roasted in Cork, and their coffees are super. (This is where Michael asked for a to-go coffee for the road after downing a flat white last weekend! Thanks, Marcus!)
Clement & Pekoe – If I make a single hint about coffee and we're within fifteen minutes of Clement & Pekoe, Michael suggests we make a detour. It's his all-time favorite, also Badger & Dodo beans, and a great stoop for watching the hipsters go by on South William Street!
Vice Coffee – Vice is like the cooler, edgier North side brother of this bunch. It's located in the Twisted Pepper, which hosts gigs and craft beer and cocktails in the evenings. But by day, they do coffee and a few munchies very, very well.
Butler's – This will probably show the real coffee snobs that I'm a complete phony, but when I need a real treat (especially at the airport) that still has a little caffeine, I love a Butler's mocha. For the same reason I love their hot chocolate – they ladle in thick chocolate sauce before adding hot milk and coffee. It makes a bad day instantly cheerful.
Peacock Green – I'm not sure Peacock Green will make most coffee snob lists, it flies a little under the radar. But since I started working at House & Home before Christmas, it has become my favorite daily treat. I haven't stopped long enough for a sandwich, but they always look delicious, and they love to put edible glitter on their treats. Really, how can you refuse edible glitter?!
I'm not kidding when I say there are lots upon lots of great coffee joints in Dublin – here are a few more: 3fe / Coffee Angel / Joe's Coffee / The Fumbally / Fixx Coffeehouse
And of course, this list wouldn't be complete (for us at least!) without mentioning how yummy Michael's mom's coffees are. He stops by there more days than he'll admit for a daily coffee!