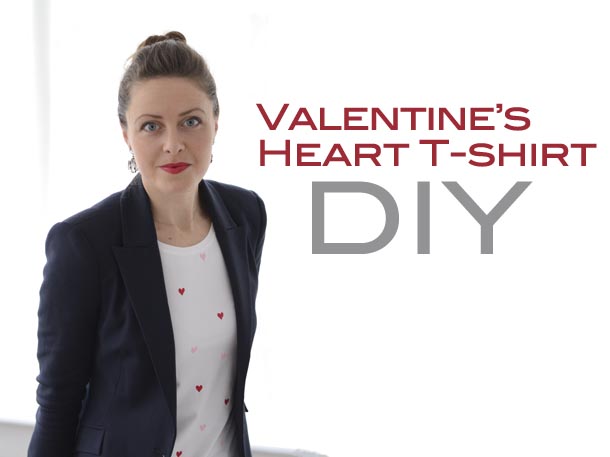 Happy Valentine's Day, friends! I have a little simple DIY for your Friday that will take you all of twenty minutes to create, just in time for a Valentine's date tonight. And if your Valentine's evening consists of red wine and House of Cards (big plans for us, I tell ya!), lose the red lippy and blazer, replace with a cardigan and slippers and you're still festive for a night in!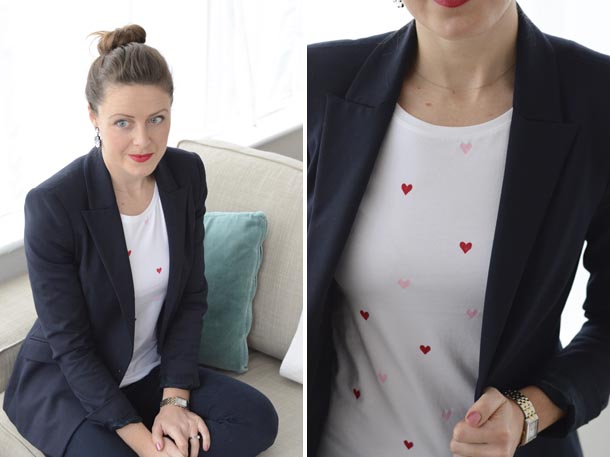 Here's what to do: Cut a tiny heart from a piece of thick paper. Using fabric paint, paint on a line of red hearts diagonally across the t-shirt. Once those are complete, paint a line of light pink hearts diagonally across the t-shirt. Repeat until the t-shirt is covered in hearts and voila! Sweet little heart shirt for Valentine's Day! One tip that I'm not sure I could explain more delicately than this: try to avoid placing a heart directly in the middle of the boob areas. It's not that kind of t-shirt! Well, at least mine isn't!
I used a €6 t-shirt from Dunnes Stores. They're my go-to white t-shirts because they're cheap but good enough quality that they'll last a while, and they have a forgiving amount of stretch. Perfect for having a few too many chocolates this evening!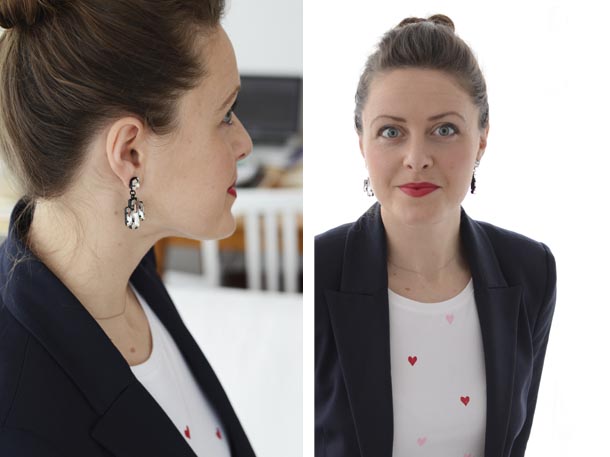 I hope you have a wonderful, cosy Valentine's Day, full of treats and extra squeezes from loved ones! See you next week!
Thanks to Michael for taking these photos! And thanks to my sister for gifting me those sparkly earrings for Christmas! They're perfectly festive for any holiday!