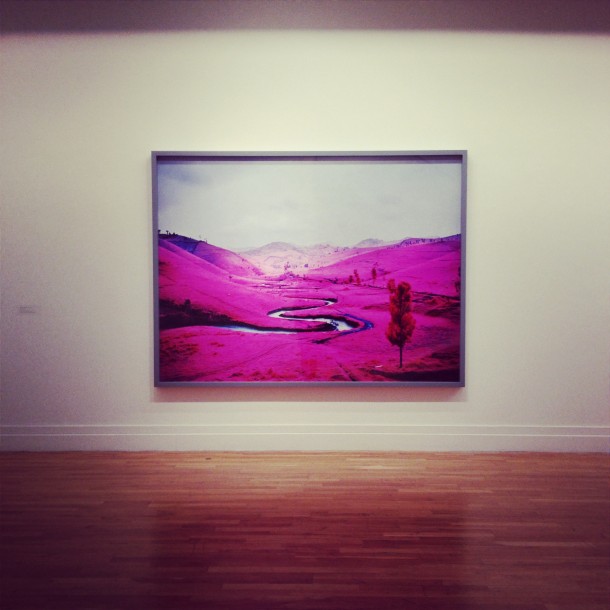 When I give my Dublin tours, galleries are some of my favorite places to bring visitors. The big ones like the National Gallery get mentions in guidebooks, but some of the little galleries don't get as much publicity. In fact, it occurred to me that a lot of my friends (and husband!) haven't made it to a few of the best Dublin galleries. So here's a mini round-up of my four favorite free galleries that always, always make me happy.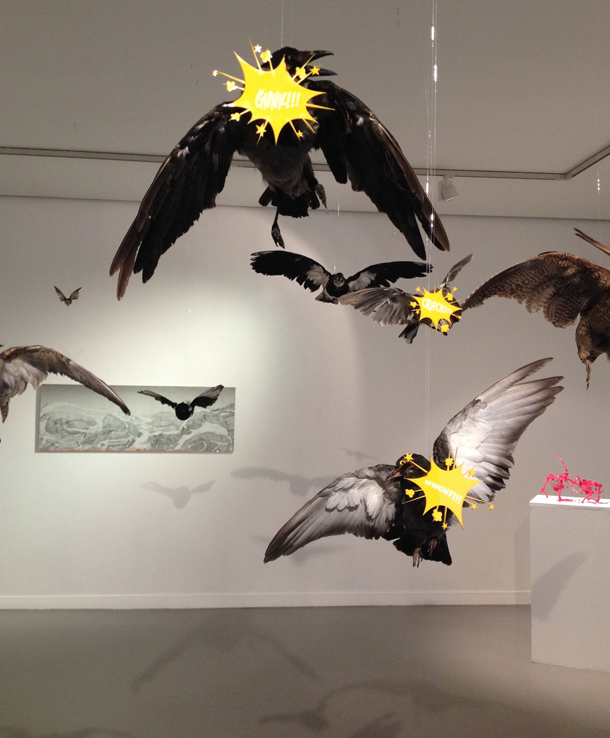 Royal Hibernian Academy
The Royal Hibernian Academy is one of my favorite galleries in Dublin. And the fact that Coppa is located at its entrance is only part of the reason why it's my favorite. Each summer, the RHA holds its annual exhibit of submissions from Irish artists, which is really worth making a trip to see. The walls are packed with work from Irish artists, both up and coming and well known. The curator, Ruth Carroll, uses every inch of space to show as much great Irish artwork as she can, and the exhibit runs for a few months.
The rest of the year, the RHA has a variety of different exhibits that run for a few weeks each. At the moment, there is a great exhibit by Richard Mosse that includes his psychedelic photographs and video installation from his time in the Republic of Congo. There's also a hilarious exhibit in their commercial gallery that involves taxidermied birds in that photo above!
15 Ely Place, Dublin 2, Ireland
Centre for Creative Practices
You might remember The Centre for Creative Practices from my 30th birthday party late last year. Michael discovered it for me when I was at my wit's end looking for the perfect venue. Well, not only was it the perfect venue for my birthday party, it's also just a darn interesting place to visit. At the moment, they have an exhibit on called Love Letters, which is a curated selection of love letters submitted to the gallery before Valentine's Day. It's really, really lovely. They also host workshops, concerts and gigs, along with exhibits from emerging and immigrant artists. It's a really inspiring place run by talented and visionary people.
15 Pembroke Street Lower, Dublin 2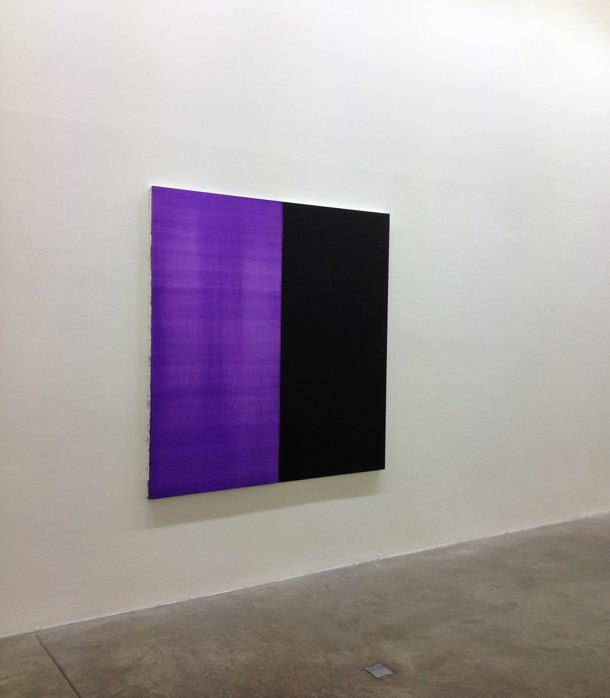 The Kerlin Gallery
The Kerlin Gallery is hidden away just off busy Grafton Street and it's a really calming space that's always filled with contemporary art. It's small and minimalistic and such a contrast to the hubbub that goes on outside the door. Right now, the Kerlin Gallery has an exhibit running with photography works from Willie Doherty called Remains, that focuses on post-conflict settings in Northern Ireland.
Anne's Lane, South Anne Street, Dublin 2
The Cross Gallery
Now we zip across town to Dublin 8, to The Cross Gallery, a tiny contemporary art gallery on a bustling old street in Dublin's Liberties district. The Cross Gallery also has an adorable cafe with a view of the street. Francis Street has tons of antique shops and second hand stores, so while the gallery itself won't take you long to browse through, it's well worth a jaunt across town.
59 Francis St, Dublin 8
If You're Visiting:
It must be the time of year for people to plan trips to Dublin because I've been getting a big spike in emails asking for tips for visiting Dublin. I thought I'd start adding in a few tips for visitors planning their trips to try out the places I love in my adopted city.
One of the most frequently asked questions I get from readers is where to stay in Dublin. And here's my humble answer: stay in the city centre. Dublin is a very walkable city, but the public transportation is just plain slower than a lot of bigger cities. So if you're staying even a few miles outside of the city, the time you spend taking the bus or Dart (train) into and out of the city can really eat up your time here. So you'll want to look for a hotel in Dublin 1, Dublin 2, or Dublin 4 post codes. They're the closest to the city centre so you can maximize your time in this lovely place!
I have a few personal favorites – the Fitzwilliam Hotel, the Ariel House, and the Pembroke Townhouse are always safe bets – all three are lovely and affordable. There are, of course, so many more wonderful hotels and B&B's and I'll try to share them with you in the coming months!