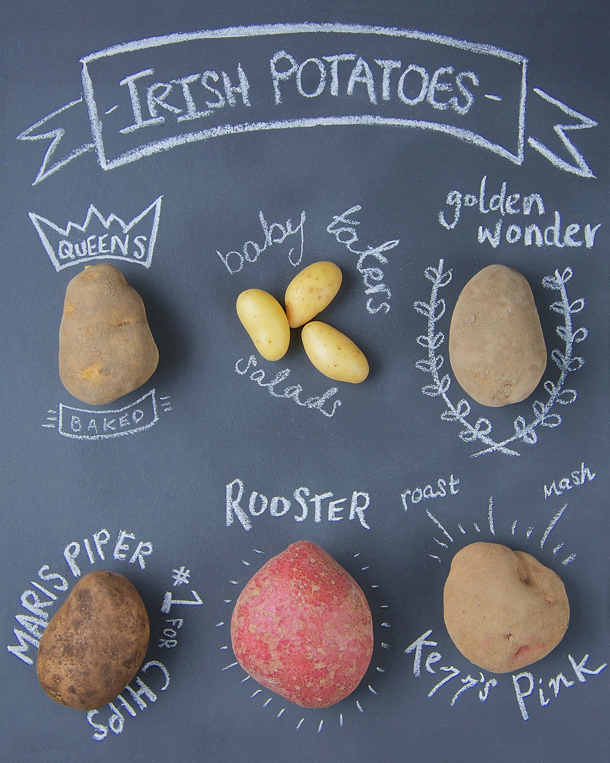 Today I'm very excited to share with you a helpful little primer on Irish potatoes. Obviously, the whole world knows Irish for its potatoes, so I thought it would be fun to outline some of the different kinds you might come across in the grocery store or farmer's market.
It's not a myth, the Irish really do eat a lot of potatoes. It's not uncommon to see menus that offer lasagna or pizza that comes with a side of roast potatoes or french fries. We've also been to weddings where the main entree was served and then dishes of various different kinds of potato sides were placed on the table – you get your choice of roast, mashed and fried potatoes, or all three!
But I am a little embarrassed to admit that the sheer range of potatoes in this country has always baffled me. Despite being surrounded by potatoes for the last five years, I haven't been able to master which type is best to choose for which dish. This primer is five years too late for me, but I'm hoping you'll find it useful or at least interesting! And if you are an ex-pat who has recently moved or is thinking of moving to Ireland, I think you should print this little primer out and bring it to the grocery store with you! It will be a big help!
With the help of resident Irish potato expert, Aoife Cox from Daily Spud, I narrowed down the long list of potato varieties here in Ireland to six types of potatoes you're likely to see in a grocery store or farmer's market. Then I asked food stylist Jette Virdi and food photographer Yolene Dabreteau to put together a little old school infographic to tell you exactly what you need to know. Here's the download!
Queens
Queens are your best bet if you're making baked potatoes, which have quickly become one of my favorite comfort foods. There is nothing like the crispy skin on a good baked potato. You'll find them during the summer months and have a good floury texture.
Baby Potatoes
Baby potatoes are firmer than most, so they make good salad potatoes. They also come in varieties like Charlotte and Emily – I am dying to find the Emily potatoes!
Golden Wonder
Golden Wonder potatoes are great for roast potatoes, but they fall apart wen you boil them, so they're not great for making mashed potatoes.
Maris Piper
Maris Piper has a golden skin colour with dry creamy white fluffy flesh of good flavour, that rarely discolours on cooking.  They are a a versatile 'all rounder, excellent for roasting and the one of the best chipping variety available, indeed, they are the variety of potato most favoured by chippers throughout Ireland.
Rooster
Rooster potatoes are the best choice for making chips (or fries, as we say in America) because they're a little wetter and firmer than other varieties. Because they have a more uniform and less lumpy shape makes them a little easier to peel. You'll know them because of their pink skin.
Kerr's Pink
Kerr's Pink has a more earthy flavor than other varieties, which Aoife explained "you either like or you don't." But they make great roast potatoes or mashed potatoes if you like their flavor.
Happy cooking, friends!
Photography by Yolene Dabreteau / Food styling by Jette Virdi