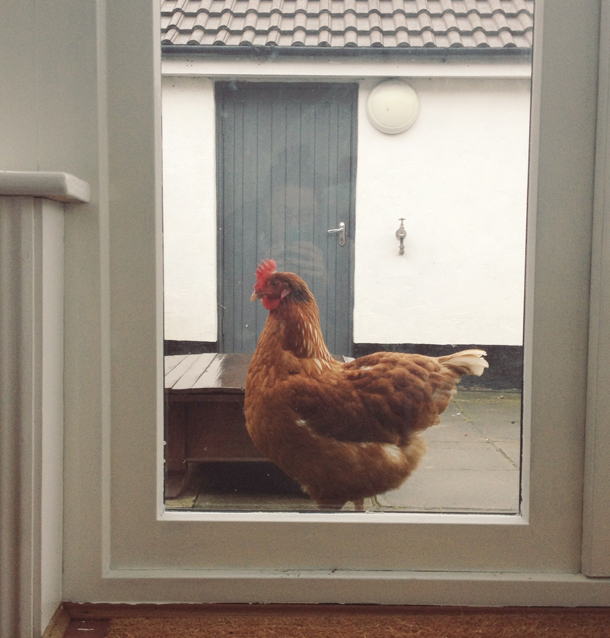 Happy Friday, friends! Did you have a nice week? How about a little life update full of random things? I had a productive week – after spending the whole weekend painting ugly brown trim white, everything seemed more cheerful in our living room. I started making lots of plans for finishing it up and we are getting closer!
Frittata (above) escapes the chicken coop every single day. She likes to check out the progress I'm making on the living room – and thwart the progress the daffodils are making in the garden. Can you believe it's only mid-way through January and our daffodils are only a few weeks from blooming? It's very strange, but also great. I am getting ready for spring, or at least longer days.
Michael and I went to see 12 Years a Slave this week and it was incredible. So heartbreakingly sad, but also really well done. If it doesn't win all the Oscars, I'll be bummed. You know what I thought was important about the film? (No spoilers, I promise.) Throughout the film, the action pauses and you're waiting with baited breath for the next thing to happen. The action pauses long enough that you know it's an intentional pause to make you think and identify and feel with the character. I think those pauses were really important. Have you seen it?
This afternoon, Michael and I are heading off to County Offaly for the night so I can do a review of a hotel out there. We're excited to visit a brewery and take a mountain walk tomorrow!
And now, a few great links.
The sweetest video about how J. Crew chooses colors.
A sweet and inspirational wire DIY.
The new modelizers: beardizers. Ha!
Hilarious and thorough baby naming trends and fads.
Golden Globe dresses paired with food.
Have a happy weekend, everyone!