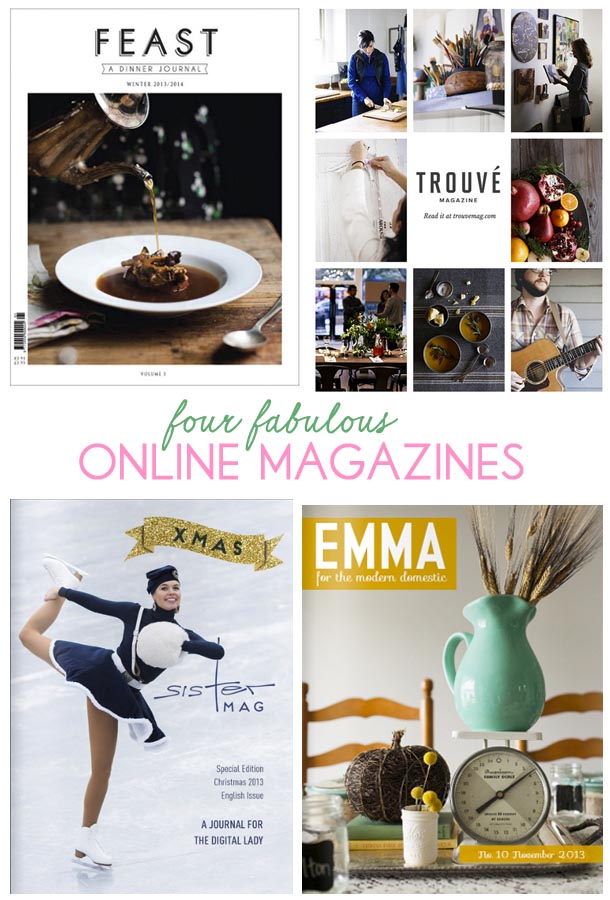 Do you know where there is a wealth of amazing articles and DIY projects and recipes and thought-provoking essays? Online magazines. And so many of them are free.
Now that I'm commuting again a few times a week, I am trying to make my time on the train fun and inspiring. Enter, online magazines, best viewed on the iPad, with some Nina Simone in my headphones. Do you have favorites? These are a few of mine:
Feast Dinner Journal, which is available in print form and really beautiful both ways, is the delicious quarterly food magazine from Donal Skehan, our local TV and food blogger friend.
Trouve has only had one issue so far, but I really enjoyed their focus on makers, their motivations, inspirations and processes. And each article is like a meditation.
Sister Mag is always chock full of the biggest range of articles – it always surprises me that they can cover so much, so thoroughly. And I think I've convinced the savvy sisters who write it to do a feature on Dublin in a coming issue. You might even see my face in it!
Emma Magazine, and the accompanying website full of articles and projects, is always inspiring and cheery. They also use a lot of green, which always makes me happy!
I'd love to hear any suggestions! Happy reading!