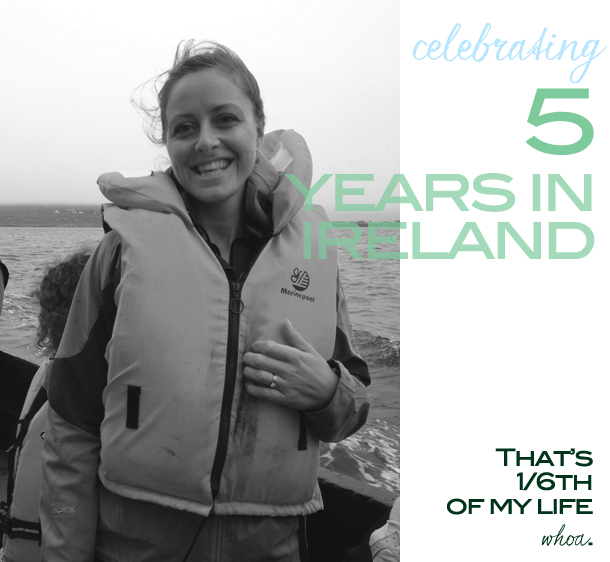 Today, although I'm still in Maine for another week, I'm celebrating having lived in Ireland for five years. FIVE. Since I'm turning thirty later this month, that also means I've lived in Ireland for 1/6th of my life, which feels like a fairly significant fraction. Part of me can't believe it, and part of me feels like I've lived in Dublin for an eternity. But, thankfully, a happy eternity.
Last year, I celebrated the anniversary with a week of posts about an Irish institution – tea, and the year before I wrote a lot about adjusting to living in Dublin. This year, I just want to stop and take a minute to express my gratitude for this space. If there's one thing that has made the last few years full, happy, and an enormous learning experience, it's From China Village and the readers who choose to come here every day. (Or every Friday, as my mom and a few close friends like to do!)
Whenever I'm asked about my blog, I explain that I started it when I first moved to Ireland to let my friends and family back home know I was okay. I wanted them to be able to picture where we lived and what our lives were like. Little did I know that From China Village would be a name that's now known around the world, whether they quite understand the reference or not! My time here has connected me to so many people from my past –  many of them from China Village! – and have led to many rekindled friendships as well as wonderful new relationships, both personally and professionally.
My writing on From China Village has also led to me really working on my skills as a writer, which is something that I'm incredibly proud of and grateful for. It gives me such freedom and release to be able to write about what I want, when I want. Because of that freedom, I can practice my writing without it feeling like I'm practicing my writing. There is no feeling of chore in writing a post for my blog.
That practice has also led to creating and realizing the dream of writing and creating full time. I love telling people what I do: I am a freelance writer and blogger. It may change, but at this very moment, it suits me. It's a large umbrella that captures the range of projects I do every day and every week, and one that gives me almost no boundaries. If I'm interested in a topic or an idea, I can write about it, either here or somewhere else. It keeps my mind ticking constantly, in the most comforting and therapeutic of ways.
Finally, I give giant credit to this space for continuing to help me learn and grow, years after moving to Dublin and starting a career as a freelance writer. I now realize how much writing helps me process new ideas, helps me come up with solutions to problems, and helps me figure out who I am and what I believe. The fact that I have a generous, kind, warm-hearted group of readers to share those words with means so much to me. I know some of you, but those of you I don't, I do know you're there. I feel your spirit and I appreciate that you keep coming back here, even if you don't say a word.
So, on the 5th anniversary of my moving to Dublin, thank you for being here. Thank you for reading, commenting, tweeting, pinning and Facebooking. You make this place what it is, which is one of my favorite things in all my 30 years.
And that, my friends, is exactly what I wanted to say on my five year anniversary of living in Dublin. Here's to another five!
{That photo isn't the most flattering one I've taken, but it's one of my happiest moments in Ireland lately. Also, it reminded me of how windblown my arrival in Dublin was five years ago.}