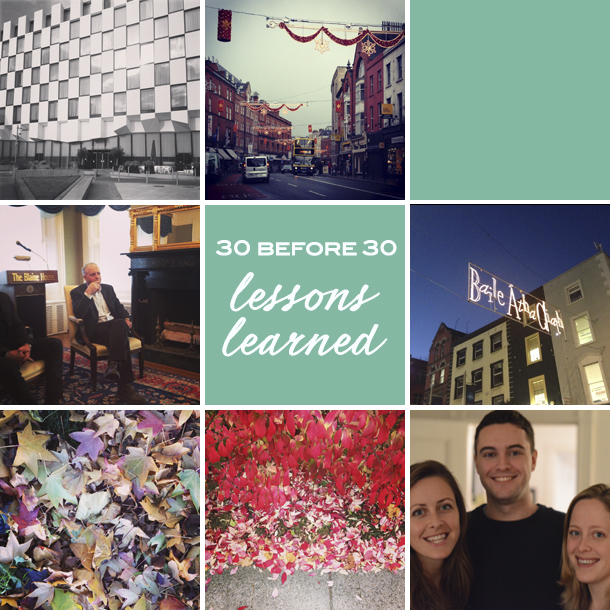 Friends, it happened. I turned 30, and I survived! It really feels mostly just the same. I still don't feel a day over 25! Well, perhaps a little wiser than I was at 25. I really enjoyed coming up with each of these lessons (almost) every day. It certainly helped focus my attention on how wonderful my last decade was! So, here is the last update on my 30 Before 30 Lessons Learned series on Instagram.
Day 18: In my 20's I learned that my siblings are possibly the best people on the planet. Well, I knew this before but my late 20's really confirmed it. These two are so smart and funny and compassionate. 2014 is going to be such a big year in the Boyle family. Don't even try to hold these two down, they are going to do such big, worthy, gutsy things. I am a very, very proud big sister.
Day 19: In my 20's I learned what a privilege it is to have a dad who is a creator. He understands the struggle and the hustle and the desperate need to put words on paper. Not only does he give the best pep talks when my inner critic gets the best of me, but he willingly edits all my most important pieces. I learn so much from him each time I hear him speak about his work, and today I got to smile proudly while he spoke at the governor's mansion. It's the most giant blessing that we have been able to collaborate on a novel together that you'll hear more about in 2014!
Day 20: In my 20's I have begun to learn, because I am surely not there yet, how to be present in a moment. It is a skill that takes practice, to put the future out of your mind so you can enjoy the present. After  years of meltdowns leading up to the ends of visits with my family, I have begun to work on enjoying those moments instead of being sad they will soon be put on hold until next time. A work in progress, but I can see the benefits.
Day 22: In my 20's I learned the beginnings of what it means to be a wife. At 24, I had zero idea what it meant or involved, but I am learning that it is so much more than I could have imagined. Mostly in the best possible ways.
Day 23: In my 20's I learned (and am still learning) that comparison is the thief of joy. I am enough, by my own standards, not anyone else's.
Day 24: In my 20's I learned that I can have lots of homes, which was and is key in lessening the homesickness when I'm so far from my original home. With a little time and energy, I made Dublin my home. And then when and if all fails, I get to have Michael as my home. It's a lot harder to be homesick if you get to have lots of homes! What a blessing.
Day 25: In my 20's I learned that my natural hair color isn't all that bad! For 12 years (or more?!) I mostly bleached it, although I went brown once and red once, until it just about all turned crispy. It's been almost 2 years and I am loving my natural brown.
Day 26: In my 20's I learned there are only 18 letters in the Irish alphabet!?! According to the kind lady at the Irish Design Shop where I bought the sweetest Irish alphabet by Rene Mullins.
Day 30: In my 20's I learned to appreciate every moment. While out running tonight I was thinking that so many people don't even get to make it to 30. I am healthy and happy, opportunities have been plentiful and disappointments few and far between. I am one lucky duck to be celebrating this milestone tomorrow. Feeling hugely grateful to those who helped shape me in my 30's. Here's to another 30!
Thank you to everyone who followed along with this little series! And for your birthday wishes. It was a very special day!