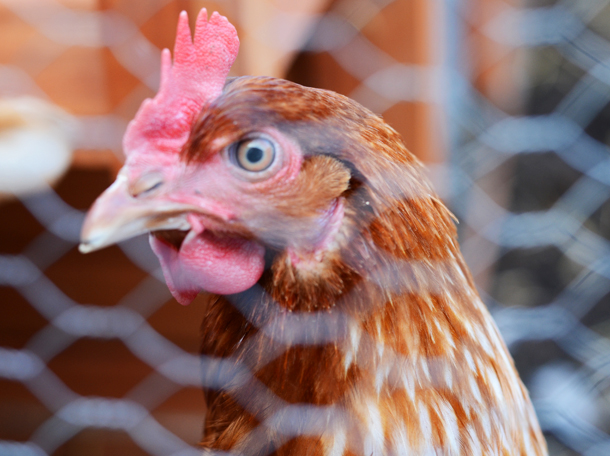 The last time I mentioned our new urban chickens, only one of them had started laying eggs. So I thought it was high time for an update on how they're doing, and how we're doing with them in our back yard.
Shortly after we finished naming the chickens (they're Frittata, Florentine, Lorraine and Sou, in case you missed that episode), they all started laying eggs. The eggs started out small, but now they're as large or larger than medium-size eggs you'd find at the store. And they're always light brown, just like you'd find at the store. Nearly a month later, the novelty of going out every morning to collect four eggs still hasn't worn off. It's so fun!
But that was the easy part. The hard part, as it turns out, was getting them to stay in their run. Apparently, when chickens are young they're not heavy enough to keep them from flying. For our lovely bunch of hens, that meant they could fly straight up and over the fence – the three foot fence and then the five foot fence which we extended because the three foot fence was obviously not working.
Unfortunately, the five foot chicken wire fence really didn't do the trick either. In fact, just after we finished making it higher, we watched Sou fly straight up and over it and land right at our feet. Errrrr, thanks, Sou. Way to rub it in!
But we weren't ready to surrender the garden and all of my flowers to our new flock. We spent a few hours watching YouTube videos on how to clip chicken wings before mustering up the courage to give it a try. We were swayed when we realized clipping chicken wings looked pretty simple, wouldn't hurt them, and the feathers would grow back. I held each chicken while Michael snipped the ends of their flight feathers on one wing. Lo and behold, it finally did the trick. No more flying, no more eating my begonias.
Success on the flight front, but now we're facing a yet another problem. What to do with the girls while we're in the States for a week at the end of this month. They're really low maintenance, but they do need to be let out each morning, the eggs collected each day, and shut in again at night – to keep them safe from urban foxes. I know, go figure.
If you know anyone who's interested in chicken sitting (or house sitting, if that appeals) for a week at the end of the month, shoot me an email!