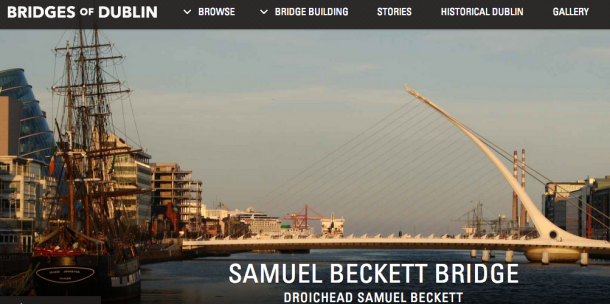 Friends, I keep coming across the most amazing and creative websites packed with info about Dublin and Ireland, so I wanted to share three with you today.
First, Bridges of Dublin. Anything and everything you could possibly want to know about the many (you'll be surprised) bridges of Dublin. It's the kind of website you can't believe keeps leading you down more and more rabbit holes of information. History, design, trivia, this website seriously has it all covered. That bridge above? Apparently 80,000 people could be supported by the six back cables of the Samuel Beckett Bridge – the equivalent of a Croke Park full house. Isn't that fascinating?
Next, Irish History in Six Minutes. Watch it. Then watch it again and try to catch all the hysterically witty cartoons flitting by. My only complaint is that YouTube doesn't have a slow motion button! History has a way of slipping through the cracks in my brain, so this is a great primer on Irish history. (Thanks, Sue for the great find!)
Finally, Old Dublin Town. It's more of a Twitter feed than a website, but it's packed full of historic photos of Dublin that I find just fascinating. I love seeing what some of my favorite Dublin places looked like hundreds of years ago. And even if you're not on Twitter, you can click here to open their images. How about this image of the man who controlled traffic on O'Connell Street before there were traffic lights in the 1960's? Amazing!
Any wonderful websites for Irish info that you'd recommend?