Today I'm so excited to get to share a new project I'm working on. A week ago (very short time table we're working with, obviously), I got a note from my friend Lily to say that the non-profit she works for was looking for someone to design a teen room in a housing association. After a whirlwind of conversations with that non-profit, Localise, I had managed to wrangle Alex (Hydrangea Girl, you know her well by now!) into helping with the project and we were measuring walls and meeting with the kids who are going to use the space!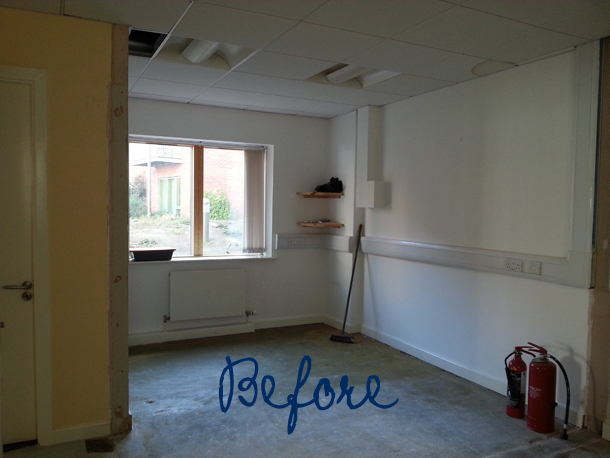 There are a lot of players in this project, so let me give them all a bit of an intro. First, Localise. Localise is a non-profit based in Dublin that encourages young people to use their skills and talents in service to others. In this case, they're also encouraging a not-so-young person to use her skills and talents to serve others! And I am hugely grateful for the opportunity.
Next, the place where we're designing the teen room is in Sophia Housing Association on Cork Street. It's a housing complex with fifty apartments for families, couples and single people who are "out of home", or transitioning from being homeless. They have care workers there full time who help the tenants in a really holistic way to create better lives for themselves. The complex is safe and well-cared for and includes a creche for young kids, a coffee shop, and gardening and cooking groups.What they don't have is a space for kids around 10-14 who live in the complex – one of the most vulnerable ages for kids in that neighborhood. Essentially, if those kids don't have a place to hang out, they're going start leaving the complex and walking a path that leads to trouble.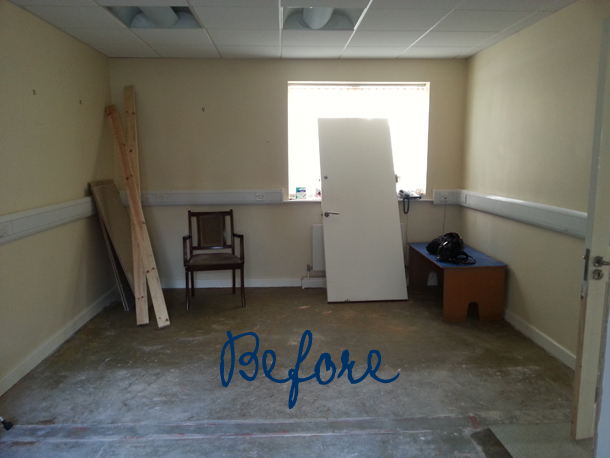 Localise has partnered with Notre Dame University's study abroad program in Dublin in order to make this project happen. But here's the hitch for me – Notre Dame is providing 20 of their study abroad students to help transform the room – on a day that I'll be in Maine. Terrible timing! So that's where Alex comes in to save the day! I asked Alex to team up with me for the project, and she's going to be able to be there on the day to boss people around and give orders (just kidding…kind of) so that the room ends up exactly how we've envisioned it. Or at least very close!
Now, time to share a little of that vision!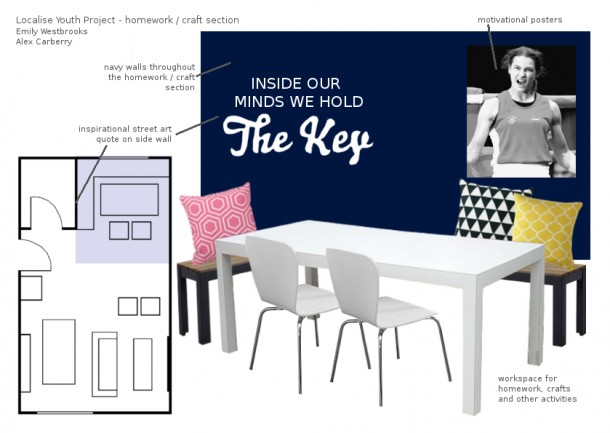 First, we met with some of the kids who will be using the space to get their opinions, requests and suggestions. Based on those suggestions (and they were fab), we came up with a floor plan to break the space into three areas – homework, lounging and playing. The space is small, but breaking it up will allow the kids to use it in different ways at the same time.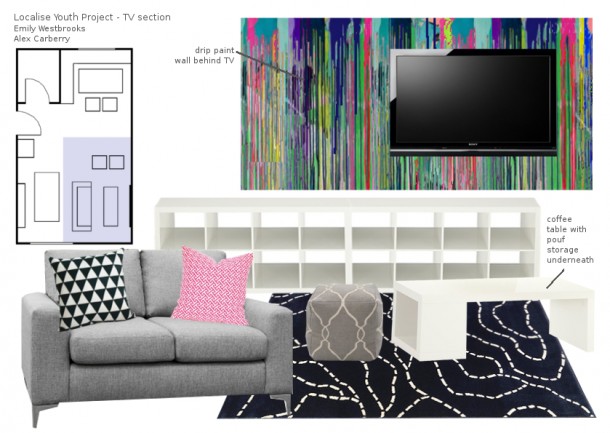 Then Alex came up with these amazing plans and mood board type images. She is an absolute whiz when it comes to Photoshop and I need to bribe her into giving me some lessons!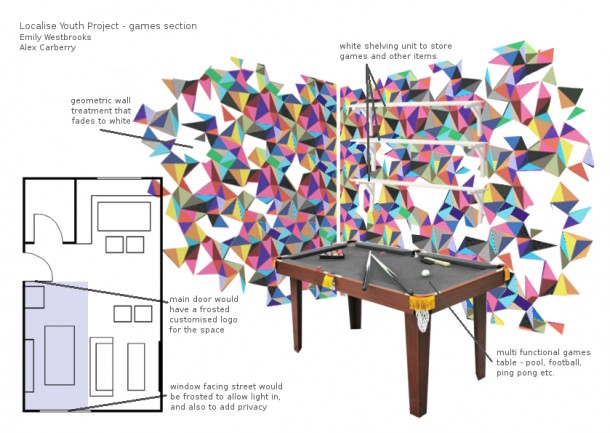 What we're really hoping is that the space is comfortable, colorful, and inspirational. We're also hoping that it's a space where these kids can feel at home and really enjoy themselves and relax after school. And finally, we're hoping this space provides the kids an alternative to going out into the streets and getting hurt or hurting others.
I'm so thrilled to be a part of it all. We'll be sharing more info in the coming weeks – the the grand opening will be at the end of November, and I'll have photos and even a time lapse video of the space coming together to share with you!
Can't wait to share more soon!
{Thanks to Alex for the before photos, too!}