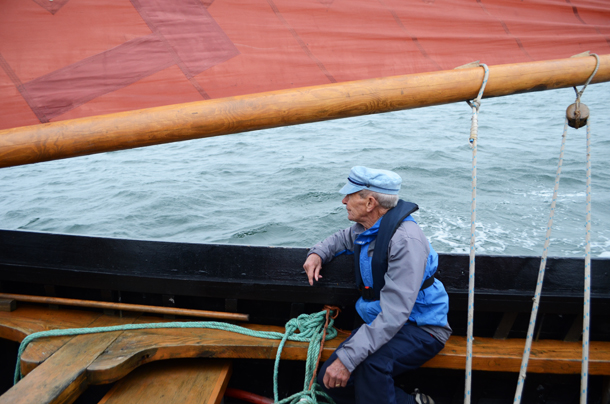 Last weekend, I attended TBEX, the travel blogging conference for which I did this welcome video and this Dublin video. It was a whirlwind two days of meeting people, talking about Dublin, and listening to some inspiring speakers. One of those speakers was legendary Irish photographer John Minehan. He is a member of the oldest of schools of photography and it was wonderful to listen as he reminisced about film photography, slower and more thoughtful years gone by, and making relationships instead of just snapping photographs. One thing he said stayed with me, "These days, our souls are stolen constantly, and deleted at the click of a button." He was encouraging us to engage, to experience, and not just to snap, snap, snap, sucking the souls from our subjects and moving on to the next victim.
Flash forward twenty-four hours later, I set out with twenty travel bloggers for a marathon tour of Connemara and Galway. And, at the risk of offending any of my trip mates (who were great company for the three days), there's nothing that makes you want to take a photo less than being surrounded by twenty people taking photos. It's hard to engage, it's hard to experience, and it's hard not to feel that by taking photographs, you're doing nothing more than hoarding pictures and sucking the life out of a place. In fact, surrounded by twenty cameras, it's really hard to feel anything or to show real reverence for a place. It's hard not to feel that being a blogger is simply about consuming and collecting, not being truly present.
***
On Sunday morning, after a short run in the fogged in Cashel point where we were staying, we set out for what turned out to be my absolute favorite hour of the whole weekend. We were headed for a ride on a Galway Hooker, a traditional fishing boat used off the coast of Galway for hundreds of years. I think the whole of Connemara was socked in with fog, but the air was unseasonably warm and we were bundled and ready for the sea.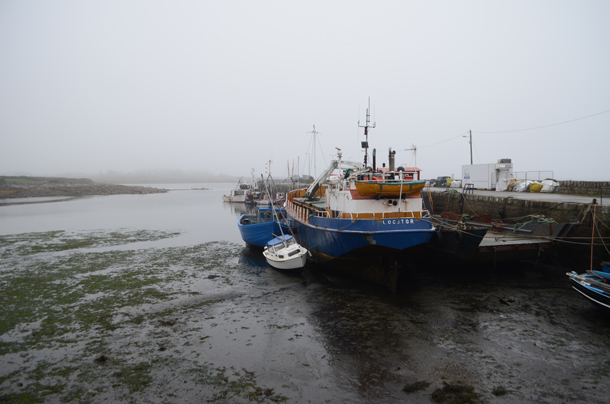 The tide was out, so the first hurdle was climbing ten or fifteen feet down a slippery metal ladder into the boat. But once in the boat, with burgundy sails raised, we zipped across the bay so smoothly and quietly. And once we were under sail, all I wanted to do was soak it in. Not with my camera, but with all of the rest of me. I wanted my brain and my heart to really be there.
So I snapped a few photos, and then sat and soaked it all in. The sea, the wind, the fog, the Irish sailors, and the sheer history of the place hanging in the air.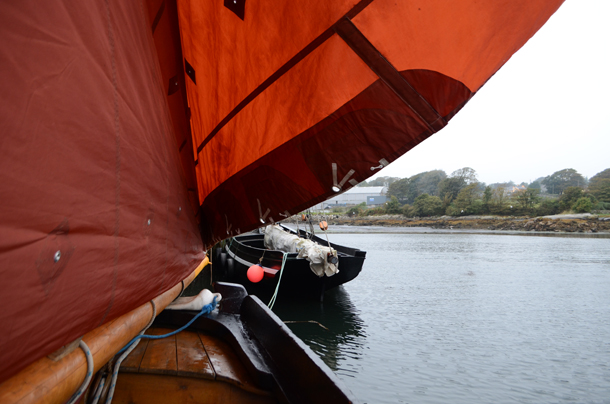 I struck up a conversation with the older man in the blue hat in the first photo. I have a very soft spot in my heart for grandpas, and as it turns out this man was a grandpa to ten grandkids. He had lived in Dublin and in Cork, but he'd settled with his wife back in his hometown in the west of Ireland. He said sometimes he wrote articles for the local paper; he recently walked part of the Camino in Spain and he wrote a piece for the local paper about it. He hated it, hated the writing. He said he'd rather dig a hole than write. His wife sometimes helped him type things, but she had a hard time spelling in Irish, and in this tiny town in the gaeltacht, his articles would have to be in Irish. I suggested perhaps a student from the local school could type while he talked, but he thought that might be a tad embarrassing.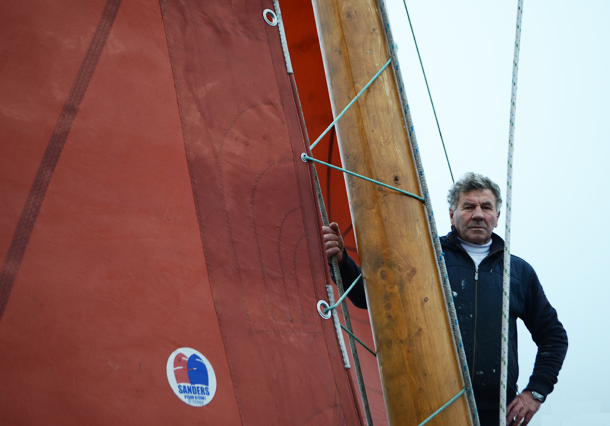 This man is the father of the woman who organizes the Galway hooker trips (who, by the way, I could have listened to speak in Irish all day long). She explained that her father doesn't believe in life jackets. He was also wearing suede shoes, which I found wonderfully rebellious.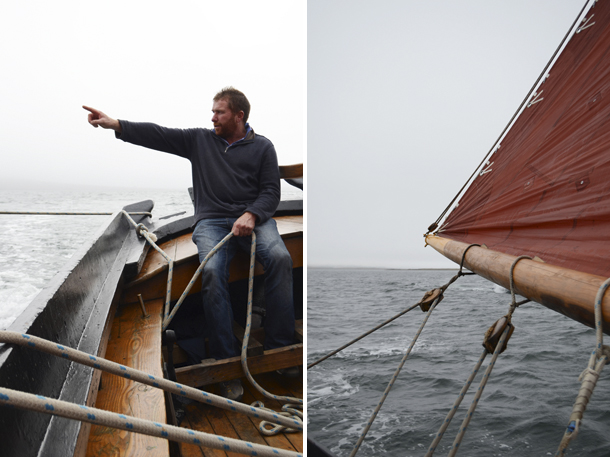 My older friend explained that it's hard to get a whole crew to sail a Galway hooker, because so many of the young men have left in search of jobs in Irish cities or abroad. We were sailing with six crew, we should really have had seven. Sailing a hooker takes strength, and the seas can get rough. He said the young lads still living in town took the motor out of the berth of the boat, so they could race her during the summer. One of the younger lads, my age at least, said they race every weekend, all summer long.
***
I did take photos, you can see that of course, but they'll be reminders of the experience of that time I sailed on a Galway hooker, with the fog frizzing my hair and the sea salt on my hands. They'll be triggers that spark a daydream of what living in rural western Ireland would be like, the routines and season changes, the storms rolling in or waking up to socked in fog. They'll remind me of the muted colors of the sea and the sails, and the lilt of the crew spitting Irish back and forth at each other, sly smiles on their faces as they joke in a language so few people have the privilege of understanding.
I am a blogger, so I think by nature that means I love to share. One of my first reactions to most things is so and so would just love this! But sometimes you need a reminder to have an experience first, to fully feel and touch and ask questions, before you snap the photo and share the details. So, to John Minehan, thank you for that important reminder. And thank you to the lads on a Galway Hooker for allowing me the privilege of having a few Sunday morning chats. I hope to be back some day for more.