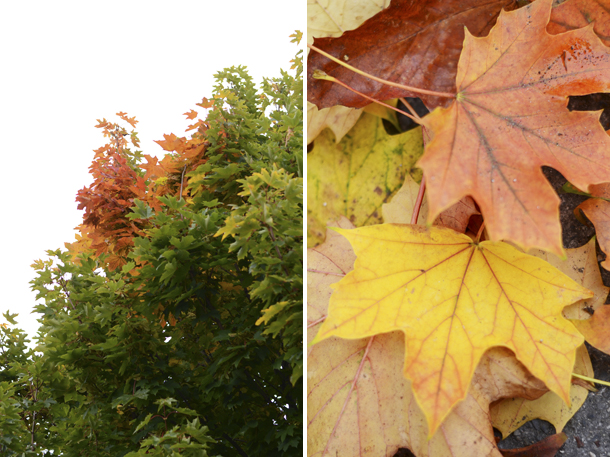 Happy Friday, friends! I've had a whirlwind week. My mom was here until Wednesday morning, and once she left the house was quiet and lonely and there was lots of work to catch up on! It was kind of a double whammy of bummers. It's hard to be reminded of what you're missing when you live so far away. And I just miss my mom in my house, hanging out with me while we drink coffee and dream of ways to make my house make more sense! I'm not sure Michael feels the same way, because when my mom's around, I have an excuse to do all the projects at once and make a huge mess.
The good news is that I'll be back in Maine for a few weeks in November, so I don't have to miss home too much. The other good news is that there are little bits of autumn peeking through all over our neighborhood! The tree across the street has a little patch of orange and red, and it's already dropping pretty leaves on the street for me to collect. And yes, the neighbors look at me like I'm bonkers.
This weekend, Michael will be in Belfast for basketball, so I'm going to make more messes, paint more things white, and also get a haircut. My mom and I tried to take a selfie while she was here and my hair took over everything. It's time for a chop, or at least a trim. I'm also taking Alt for Everyone classes all evening tonight, and I'm learning tons. It's so nice to talk blogs for hours on end!
Any wonderful weekend plans? Here are a few fun links I've seen in the last couple weeks. I thought you might get a kick out of them!
In case you missed it, a really fun video about Dublin!
DIY Cross-stitched place cards
I keep pinning shoulder length haircuts. Hmmm.
Sweet upcycled fabric vases from soup cans!
Homemade caramel chai would make the house smell delicious, and it doesn't look too difficult.
Pumpkin pie and cinnamon granola certainly would too!