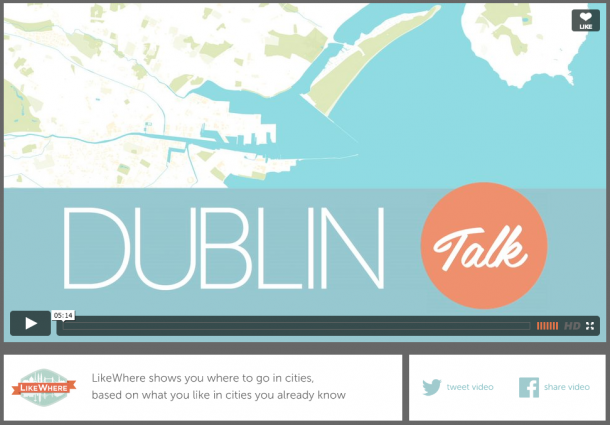 I've been working with the travel start-up site LikeWhere for the last few months. They're based in Dublin, have a killer concept, and a site that is such a pleasure to look at. You plug in a neighborhood you like in a city you've been, and it spits out neighborhoods you might like in a city you're planning to visit. Isn't that a great idea? So if you know you like Covent Garden in London, LikeWhere can tell you where to go in Barcelona for the same vibe or happenings.
So when the founders of LikeWhere (who are so nice and totally get how people want to explore cities) asked me help them with a video about what Dublin's really like right now, I jumped at the chance. I find it really awkward to watch myself on video (as in, do I really sound like that? Does anyone else feel that way?!), but I certainly do love to shout about how great I think Dublin is! I'm so excited I got the chance to talk so much about the Creative Quarter and Dublin's north side and Howth! The Howth part might be my favorite – look for the boat zipping around the harbor. It's too cute!
So have a peek at the video (if you're coming to TBEX next week, it's a great Dublin teaser!) and more importantly, have a peek at LikeWhere for your next trip!