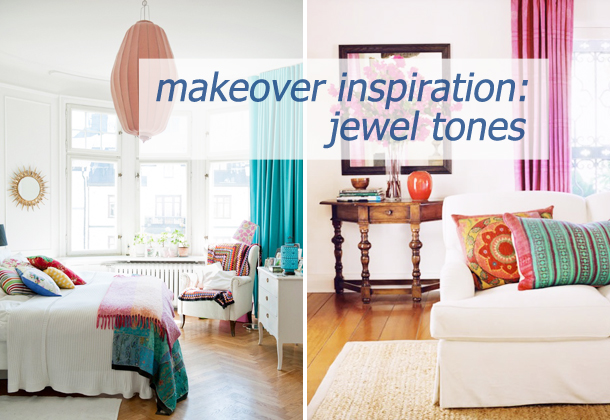 Happy Monday, friends! We spent the bulk of the weekend either painting or cleaning up after painting. It was riveting, and Michael and I nearly killed each other. Painting a house does not a happy marriage make! Especially when we are both fairly type A, eldest sibling, control freaks. He's certainly a better painter, but he loses points on the cheerfulness scale. I figure being stuck in the same room is a great time for chats. Michael does not agree. He is one focused (read – boring) painter. Much more efficient, but way less fun.
But I digress, this was supposed to be another installment in a little series of inspiration for our apartment makeover. As you can see from the photos above, when we've finished off the paint everything white phase, we'll have a wonderful blank slate for adding in bright, deep color. I'm shooting for jewel tones throughout the house, mixed with white painted and wood furniture.
We currently have a sort of orange toned fake wood laminate for floors, we're hoping to replace it because it's starting to disintegrate under our feet. We're also still in search of a couch to replace the two apartment-issue behemoths (again, replacing because they're falling apart). But when those two key pieces are complete, we'll have the perfect blank slate for lots of beautiful jewel toned accessories.
And the search for them is hopefully going to keep me sane through the rest of the painting, floor-replacing, and couch shopping!
How was your weekend? I hope it was free of painting!