We are back with a long overdue One Day in Dublin post today, taking you through the great shops, cafes and places to visit on the North Side of Dublin.
We'll start with a little geography lesson for those who don't know Dublin as intimately as others. Dublin is divided into the north side and the south side by the River Liffey (not the Liffey River). Way back in history, the English lived on the south side and the Irish were kept to the north side. Now the Irish are everywhere, of course, on both sides of the Liffey, but there are still some differences. For instance, the accents on either side of the Liffey can be quite different, and in some parts the loyalties are still quite strong. The North side sometimes gets a bad rap for being a tougher than the South side. Historically, that has probably been the case, but based on what I know of the city today, I just think it has a different flavor – a little sassier, not quite as manicured, and there is absolutely tons to do, enjoy and explore.
I should also probably give the disclaimer that my husband and I live on the North side. His family has lived there since they moved to Dublin 30 years ago, and when we moved here nearly 5 years ago, Michael informed me we would always live on the North side. He's very loyal to his side of the tracks! But even though we live on the North side, our time in the city centre is often spent on the South side. So this Day in Dublin was a great reminder of what the North side has to offer!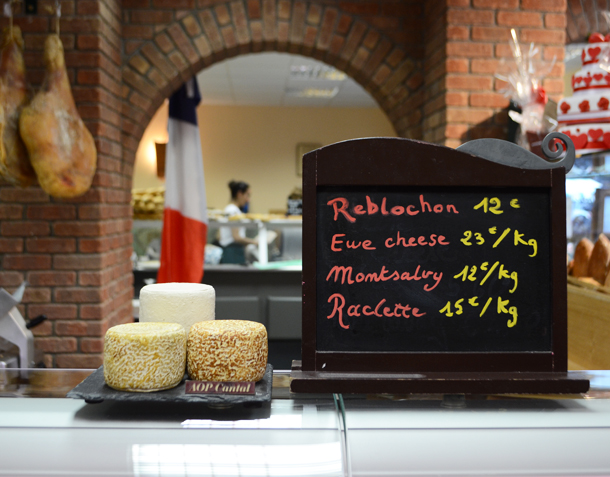 Now, no One Day in Dublin can start without coffee, tea and treats. We need proper fuel for all that exploring! My usual partners in crime, my friend Naomi and my sister-in-law Angie, joined me for the day and we decided to try the Paris Bakery on Moore Street. It was packed, but we found ourselves a nice table at the back of the cafe that looked straight into the kitchen.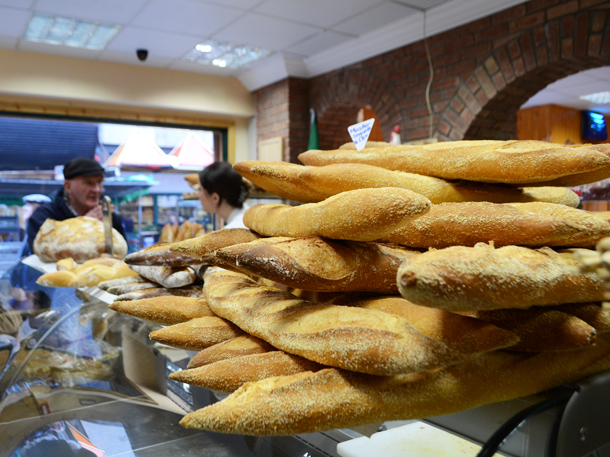 I loved their Jenga-like stack of baguettes!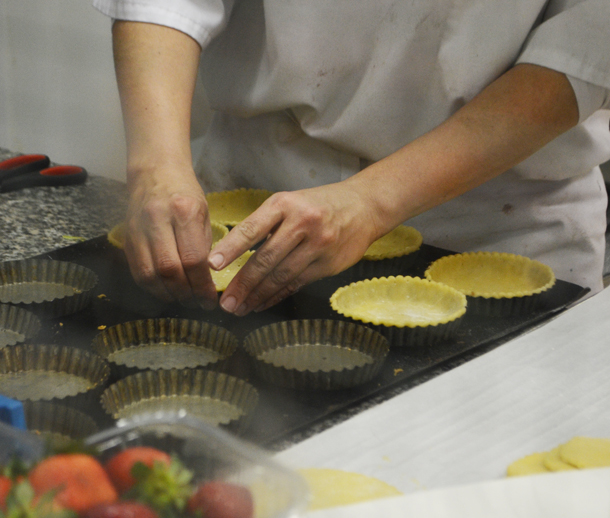 And we got such a kick out of watching the pretty pastries being made. The kitchen actually stretches for ages – it's huge! We had delicious buttery croissants and fruity financiers. It felt very authentically French!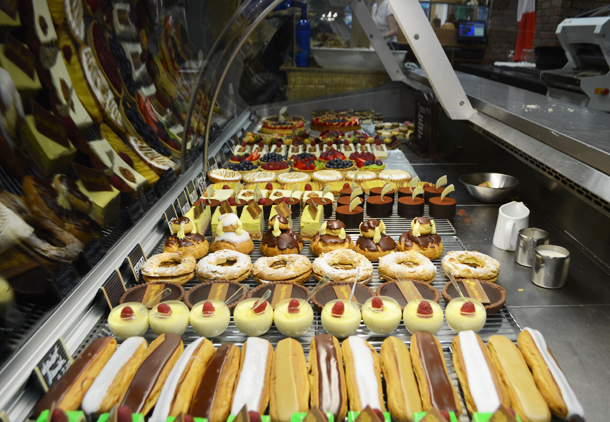 Properly caffeinated, we headed up the street. It was freezing, rainy and windy. We've had such good luck with weather for our One Day in Dublin trips, so this was a slightly different experience. We did a lot more fast walking – no moseying, girls!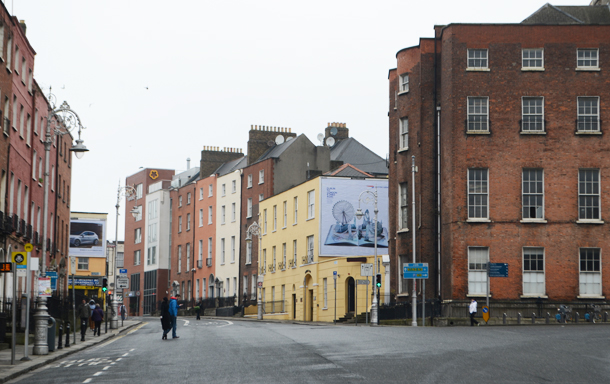 On our way up the hill, we stopped into the Garden of Remembrance, which honors the lives lost in the fight for Irish freedom.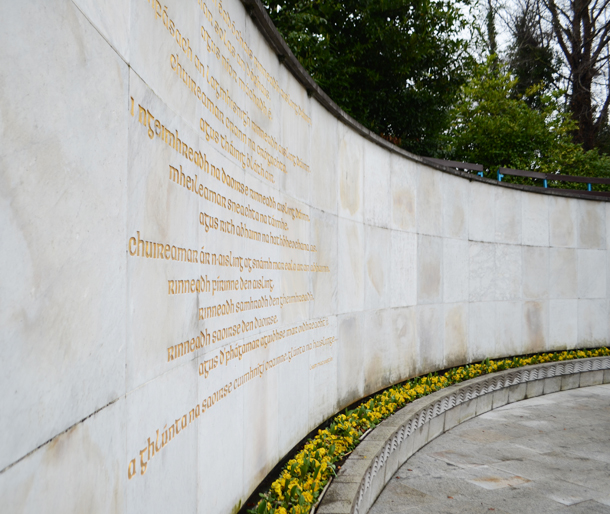 The garden is sunken below street level and the pools are tiled in green and blue mosaics.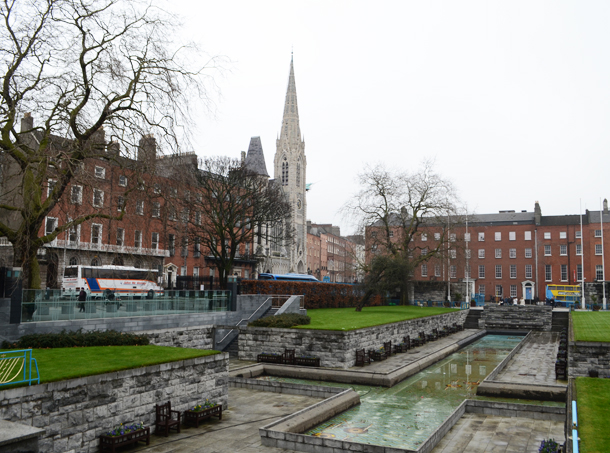 Right outside the Garden of Remembrance is one of my favorite Dublin museums – the Hugh Lane Gallery. They remain one of my favorites, despite the fact that they do not let me take photographs inside. So, here you have the entryway and the garden patio, which looked lovely and jungly even in the freezing cold!  We're planning to go back one Sunday for one of their noontime jazz concerts for a sunny afternoon on that patio!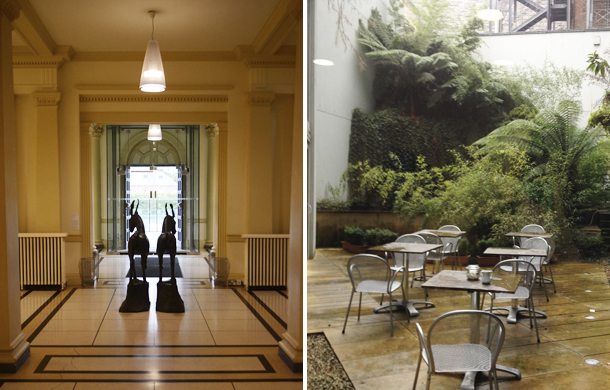 After checking out the Francis Bacon studio, which has been relocated in its entirety to a box inside the Hugh Lane, we walked back down the hill and stopped into Chapters bookstore.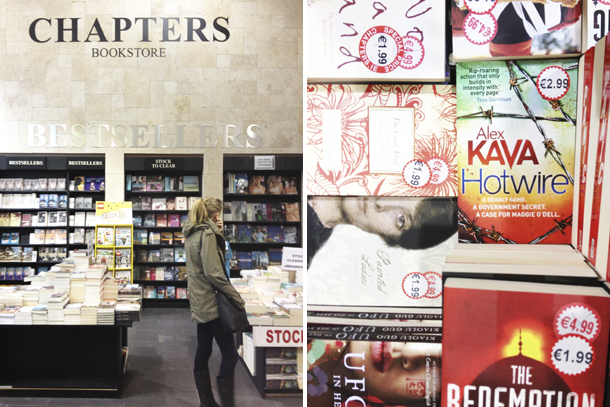 I picked up 4 books for 10 euro from their awesome discount section! They also have an entire enormous second floor filled with used books – including a few whole bookcases full of old Penguin titles. We also learned we could leave our books at the information counter and pick them up later – we were thrilled we didn't have to lug them around in the rain!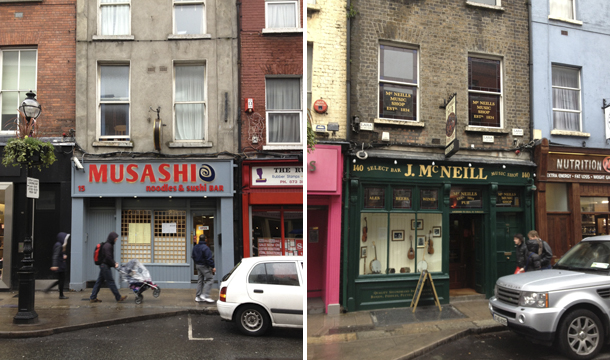 Next, we strolled all the way down Capel Street (pronounced like you'd say cape, with an l at the end). Capel Street is one of my favorites in Dublin – it's not as wide as most of the shopping streets in Dublin, and the buildings are narrow and painted fun colors. We weren't quite hungry yet, but Musashi is supposed to do delicious sushi. And J. McNeill's is a pub and music store all in one – and often has live music playing! Capel Street actually has quite a few music stores, if that's your thing.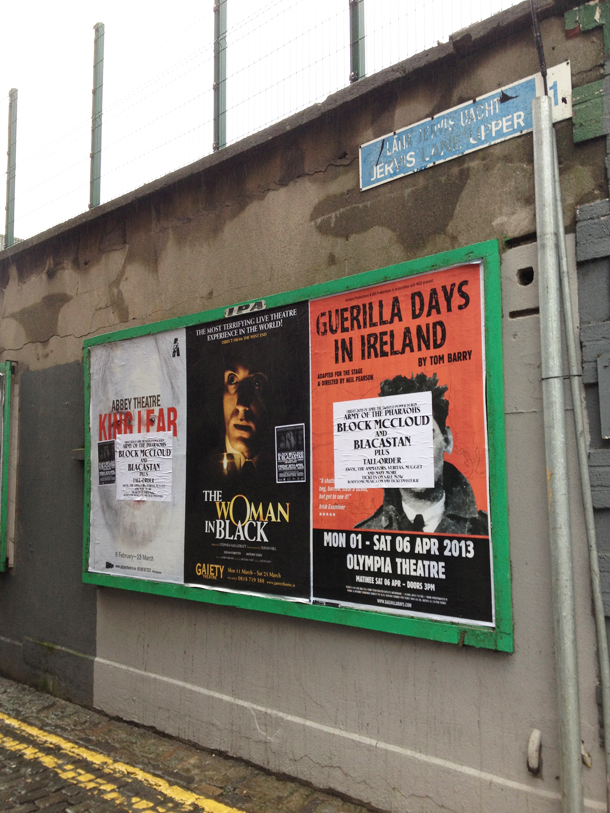 Any wall space that's vacant is usually taken up with posters for shows, gigs or protests. I love the look of those layered posters. Perhaps some design inspiration?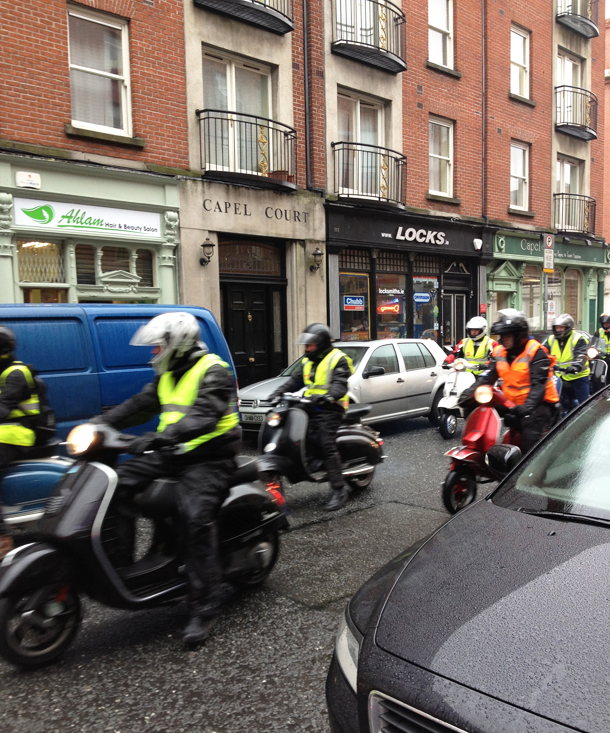 On the day we were out, there was an antique scooter parade rallying by in aid of a local hospice. It filled the air with that smell that only comes from scooters and reminded me of our time in the south of Spain. Michael lived on a hill and had a scooter that was so old it would only make it up the hill if he got a very long running start. When I rode with him, I always had to hop off at the bottom of the hill and walk the rest of the way up!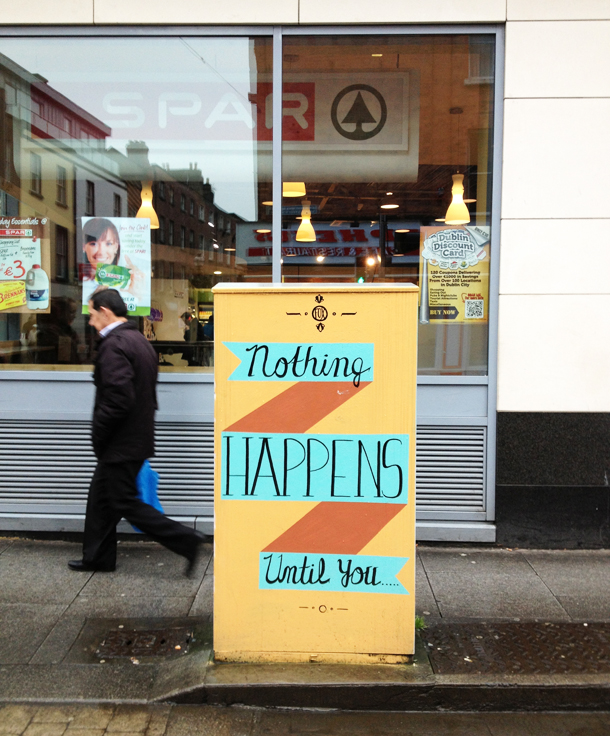 We came upon this utility box that had been painted in beautiful bright colors. So far as we can tell, an artist and the Dublin City Council got together and decided to try sprucing up some otherwise dull utility boxes. How fun would it be to have more artwork like this around the city?!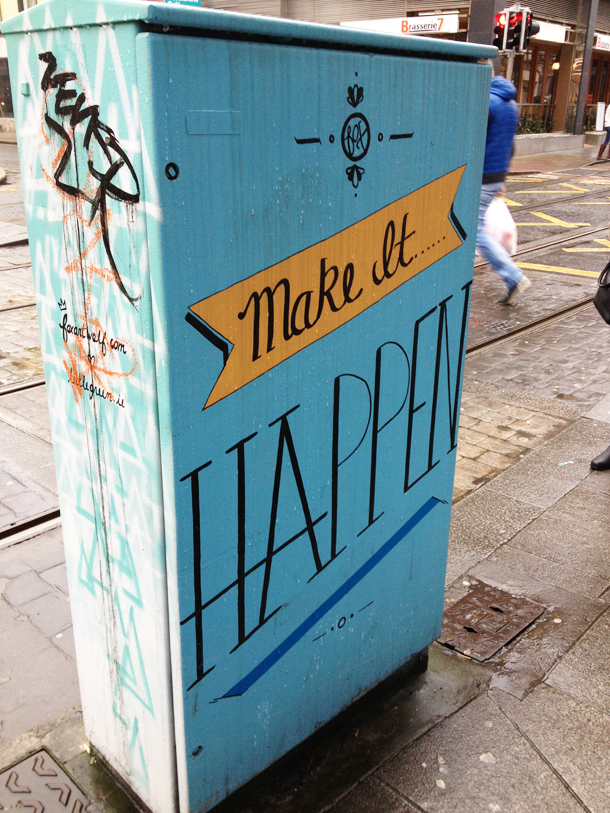 By that point, all we were going to make happen was getting warm and cosy. So we tried out the Black Sheep, a gastropub that specializes in craft beers and delicious food. It also has a good stack of board games in the corner. We browsed a few boxes (my sister-in-law Angie loves her some board games), and returned a few weeks later with a whole gaggle of friends to play this new favorite, 30 Seconds. It's like a cross between Taboo and Catch Phrase, but the coolest part is that it's Irish! A lot of the questions are international, but a good few of the clues are Irish. We decided it should be required playing in order to get your citizenship!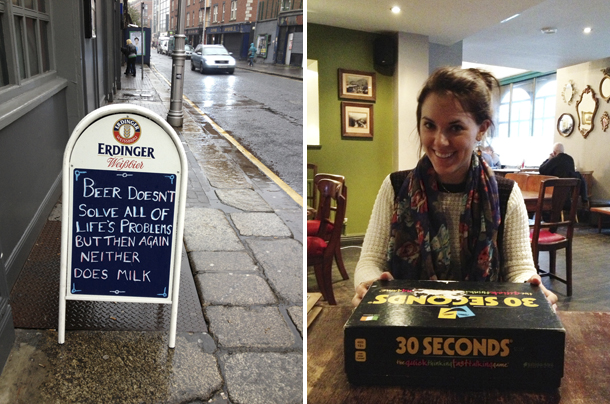 We very much enjoyed the Black Sheep, although we were so hungry we munched our late afternoon lunch (sandwich + soup + chunky chips for only €10)  before I could snap up any proof. In addition to craft beer, they also serve yummy coffee in a pretty cosy atmosphere – and it wasn't too crowded, even for a Saturday afternoon!
We had grand plans of exploring a little more, but our cold hands got the better of us. So we're going to divide the North side into another bit of exploring along the quays (pronounced keys!), and even unite it with the South side and explore that side of the Liffey as well!