Good morning, friends! We woke up to snow and howling winds today. I don't think the universe has gotten the memo that we are totally over winter. My daffodils in the back garden look especially perturbed this morning, which echoes exactly how I feel. Let's get to spring already!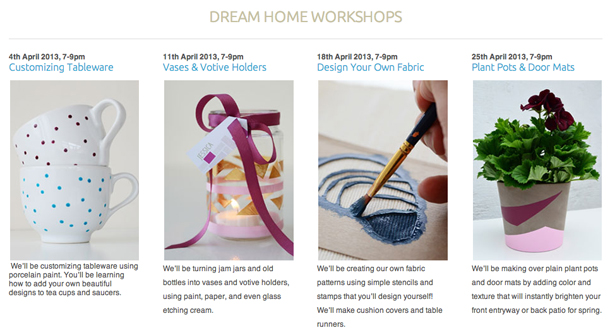 To distract us from the never-ending winter, I've got a fun announcement to share this morning. If you follow me on Twitter, you may have already seen this news because it was in the Sunday Times yesterday! I'm excited to announce that I'll be teaching a new set of DIY classes in Dublin city centre starting April 3rd.
The classes are part of a new Dream Home series offered at a local interior design firm, called Optimise Design. We'll be taking over their board room on Thursday evenings, having a glass of wine and a few treats, and crafting the night away!
If you're a regular From China Village reader, you'll know I'm passionate about projects that can add a lot of pizzazz to your home without requiring a huge investment of time or supplies. So that's exactly what we'll be focusing on in these classes! I'll be teaching techniques that anyone can adapt for their own home, and that will apply to a range of different projects. And of course, it will just be a lovely night out making lovely things!
For more information, you can email me or check out Optimise Design's website. And check out the list of classes here! Each class is limited to just 10 people, so you'll want to sign up quickly!