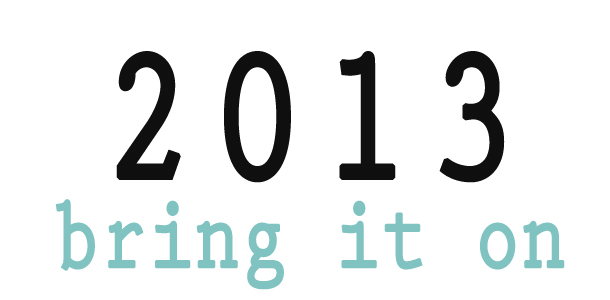 On the heels of last week's post putting 2012 to bed, I've made my plans for 2013! I have a soft spot for a clean slate and a list of goals. I'm just that kind of girl.
Looking back on last year's list, I'm maybe 2 and a half for 5. I don't think that's so bad, as resolutions go. We compost really well now (it's cut down our garbage and the smelliness so much!) and I cut out about 99% of the premade sauces we used to use. For at least a little while, we managed to cut out the technology one night each week, and I certainly know more about my DSLR than I did at the start of 2012. I think I've come out ahead. So how about some new ones for 2013!
Read more books / I've always been a reader, but when my Kindle broke this year, I somehow just stopped reading books and it's not a nice feeling at all. This year, more books. Suggestions welcome.
Volunteer / For the last few years, I feel like I've taken and taken and taken. Support, help and encouragement. I needed it, maybe a little like training wheels. This year, I'm playing around with a few ideas for ways I can use my skills to give back.
Vitamins / Take a vitamin. Every day. Blech, the thought of it does not excite me.
Spruce! Inside and Out / Last year, we weren't sure how long we'd be staying in this house so we didn't do much but maintain the status quo around the house. This year, it looks like we'll be here at least for the duration of 2013, so I'm excited to do some sprucing! Michael and I are planning some painting inside and I'm plotting some gardening outside.
Draw, Paint, Carve, Build / I'm excited to dig out my pencils and paints and create just for the fun of it. I think it will be very relaxing.
And now your turn. Any really daring resolutions?