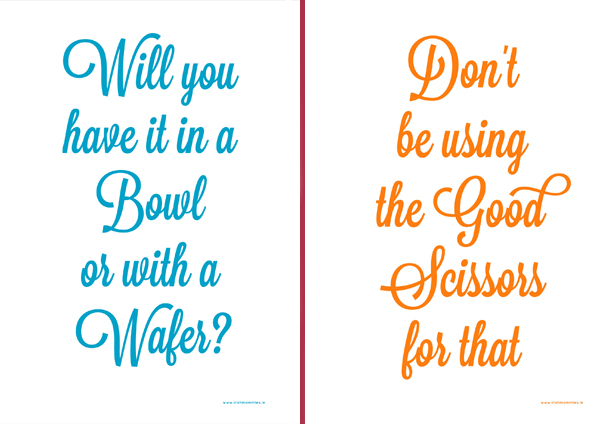 I have been getting such a kick out of the Irish Mammies Twitter account lately. Have you seen it? It was started by Colm O'Regan, and he tweets things an Irish mammy or mom would typically say. From what I know of Irish mammies, the little 140 character snippets are spot on. Here are a few examples:
Well would you look at that! A HOLE in my slipper. Already. They don't make stuff to last at all now.
I see Kate Middleton is expecting… Twouldn't be any harm if the two of ye were getting a move on too.
Listen to me now: You'll eat it and what's more, you'll like it.
The Irish Mammies Twitter account even inspired a book that was recently published! I did a little interview with Colm about his alter ego. Here's a little inside scoop!
What's the most popular thing the Irish mammy has tweeted?
Go out there now and don't mind what anyone says to you. They're only jealous of your grand anorak. I think it resonates with a lot of people forced as a child to wear an item of clothing that they loathed. Deep down they knew well no one would be jealous of their anorak.
Do you ever find yourself speaking like an Irish mammy offline?  Yes, particularly when it comes to coats and the discussion in the hall. Is it cold enough for a coat? Shur bring it anyway, if you're too warm you can take it off. No sooner were the words out of my mouth I realised the wheel had come full circle. I think what people like is that the tweets are little slices of very mundane, very ordinary conversations that would ordinarily never appear in a public forum. When they appear in their Twitter feed sandwiched in between Stephen Fry and Charlie Sheen, it brings them back home for a moment.
Do people ever send you suggestions, if so, what takes the cake? Yes, all the time. But for the moment I haven't tweeted them as I don't want to steal them! I think I will when I run out. My favourite one is a little obscure: Where is the comrade of that sock? The International Communist movement never foresaw the word comrade being used in that context, I'm sure.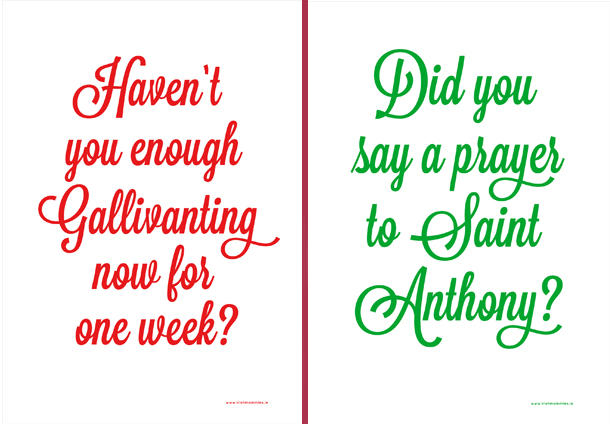 Irish design firm Curious Design came up with a few Irish mammy tea towels based on some of the most popular tweets and they're giving one away to an FCV reader! You can find all their designs here. To enter, leave a comment here with your favorite Irish Mammy tea towel and I'll pick a winner on Tuesday next week. Good luck!