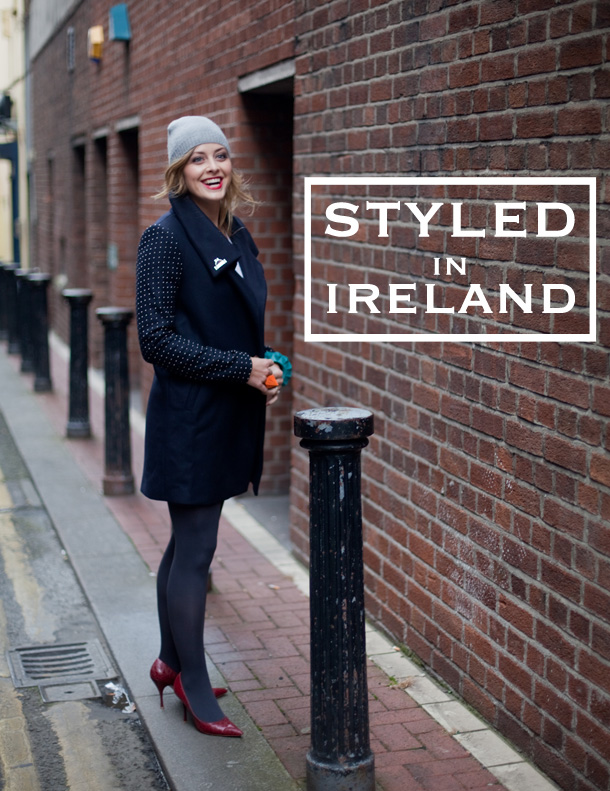 We're back with another Styled in Ireland post today – highlighting Irish designers and giving you tips for visiting Dublin or getting out and about as a local.
Tips for Travellers
It has turned chilly here in Dublin, so I thought it would be the perfect time to talk about getting bundled up for the cold. First, you'll need a great coat. I like the idea of a jacket with a little spunk – there's nothing more depressing than spending the entire winter waddling around in a purely functional coat. I say mix it up with some studs and a statement collar.
And you'll need a hat. I was never the biggest fan of hats, but they are now my biggest line of defense against the elements. They protect you from the rain, keep hair out of your eyes in the wind, and keep those ears from getting too frozen. I like these inexpensive little numbers from Penneys – I have this one in three colors! They're maybe 2 euro, so they're great way to accessorize.

Highlight // Irish Designer
Now, for that incredible geometric jewellery.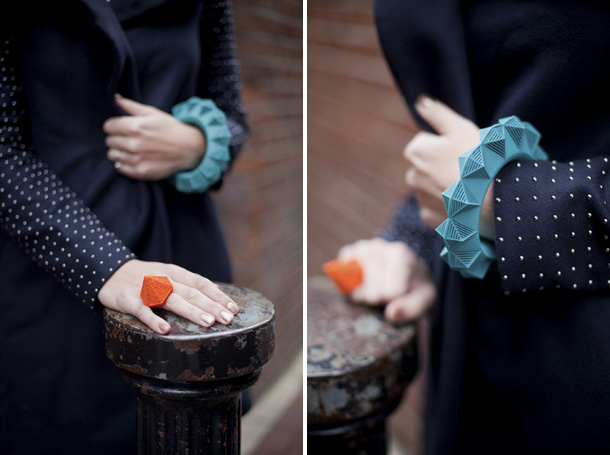 These pieces are the creations of Theresa Burger, and they're 3D printed nylon. Isn't that cool? She designs the pieces on a computer and then they're printed. Printed! I'm not even sure how that quite works, but I love trying to imagine the process. They're a little pointy but light as a feather and quite sturdy.
Sponsored by the Irish Design Shop
The Irish Design Shop is one of my absolute favorite spots to visit in Dublin. Their main shop is tucked behind the Stephen's Green Shopping Centre at the top of Grafton Street – in an old building that used to store hay! Now the building houses their beautifully curated shop, filled with jewellery, prints, and various housewares, as well as studio space for fifteen artists and designers. You can even see the studio space from the shop, and owners Clare and Laura are always happy to let people have a peek!
The Irish Design Shop also offers jewellery classes, including one where you can make your own wedding rings! But book quickly – they fill up fast!
You can purchase Theresa Burger's jewellery at the Irish Design Shop or on their website.
Coat: Zara / Tights: Penneys / Heels: BCBG / Hat: Penneys / Hair and makeup: Kristin Labanauskas / Photography: Julie Matkin, Half a Dream Away / Styling: Emily Westbrooks