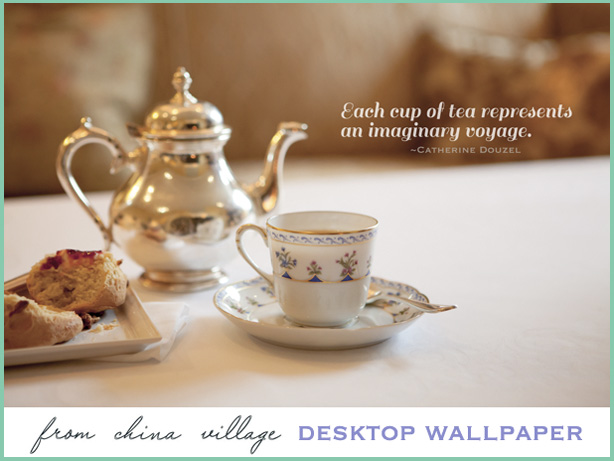 A few weeks ago, I discovered how fun it is to change the desktop background on my computer. I had forgotten about it and realized the image had been there for way too long! Since I spend so much time on my computer, it's really nice to see something sweet and inspiring as the desktop wallpaper. I thought it would be so fun to give you all a new desktop wallpaper every few months – something a little Irish, a little inspiring, a lot pretty, and totally free!
So, I collaborated with the fabulous Julie of Half a Dream Away Photography to put together a downloadable From China Village desktop wallpaper for you. How sweet is that little tea cup? And I thought this quote was a great reminder to remember the power of your own imagination. I love the idea of sitting down with a cup of tea (or coffee!) and imagining up a whole voyage.
Tell me, where would you go on your voyage? Who would you see? And what's living on your desktop at the moment?
Click here to open the image. Then right click (or control click on Macs!) on the image and select Set as Desktop Background. Don't worry, it doesn't say From China Village at the bottom when you download it! Enjoy!