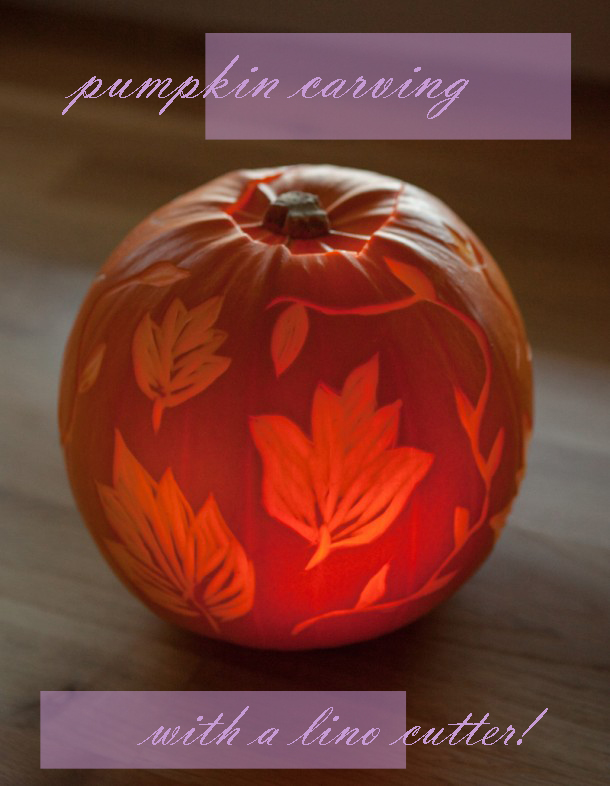 For the last twenty-seven years of my life, I've been carving normal pumpkins, hacking triangles and circles with a big old knife. But this year, my friend Julie suggested using a lino cutter to etch away at the surface of the pumpkin. Julie is so clever. This new technique was extremely satisfying!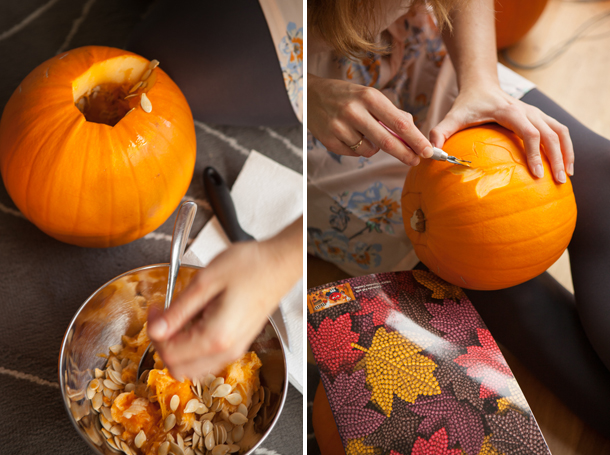 Everything I know about carving pumpkins with a lino cutter, I learned from Julie. So here's what she tells us to do. Choose the side you want to carve on and make sure to cut your top hole out of the pumpkin towards the back of that side. You want your canvas, so to speak, to be as big as possible. Julie cut a hole in the bottom of her pumpkin because she has a battery powered light to make her pumpkin glow. I stuck with the top hole since I'll be using a candle.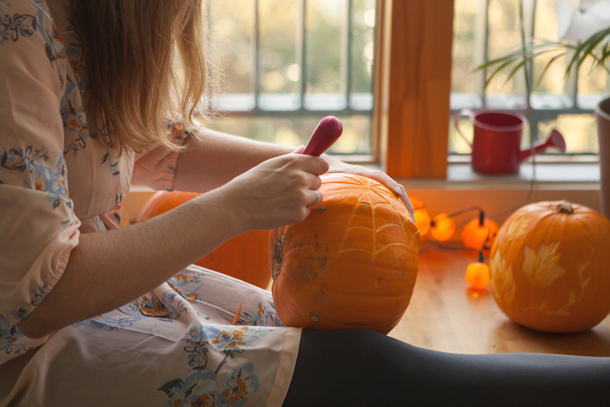 You can draw a shape on the pumpkin with a pencil or you can just have at it with your lino cutting tools. I decided on a leafy vine-y pattern for one pumpkin and a spiderweb for the other one. Very unusual for Halloween, I know.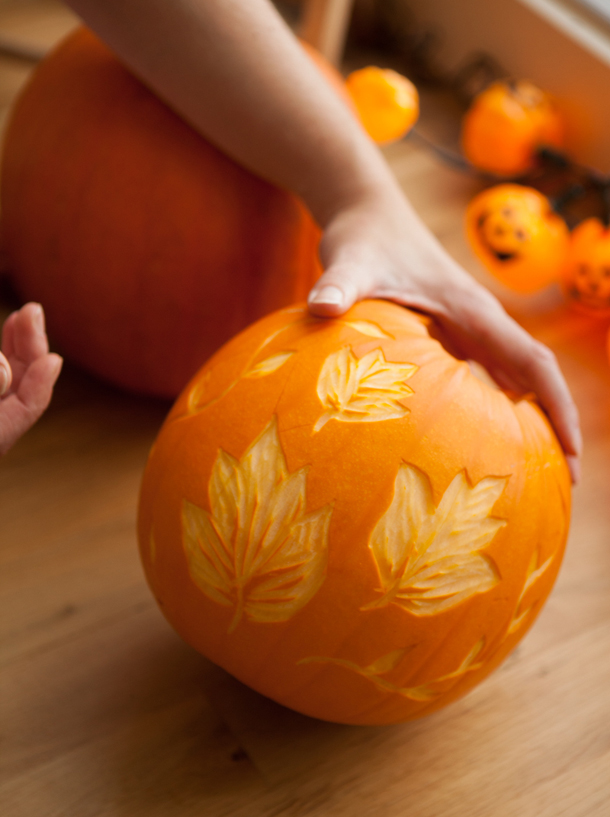 The process was fast and simple, just how I like it. Plus, it was a great feeling to be able to make a pretty pumpkin, rather than the standard shapes cut out of it. This felt more like art!
Now, here are just a couple of tips to help you create your own masterpiece:
1. Make sure you have enough of the skin carved away so the light inside can shine through. If the light is too dim, try scraping away at the inside of the pumpkin behind your design to make it thinner and more translucent.
2. You can carve out a silhouette (like a spooky cat in front of a moon!) if your brain can handle thinking about negative space on a pumpkin. Mine was only ready for simple shapes over the weekend, but next time I might be more brave!
3. Clean off your lino tools when you're done! Otherwise they'll rust. Which reminds me, I need to clean mine off tonight!
What do you think? I'm quite proud of my first attempt. How are you carving your pumpkins this year? 
All photos and inspiration by the wonderful Julie Matkin!