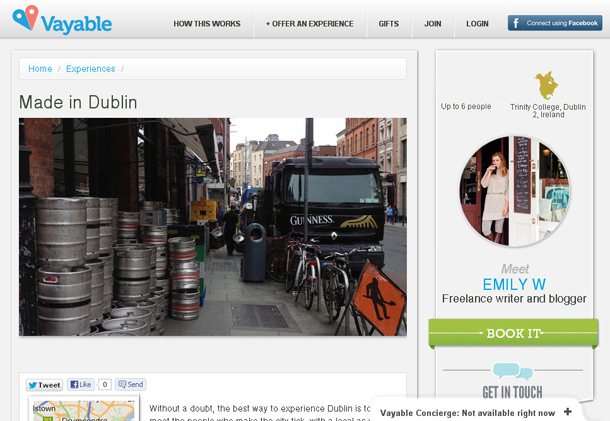 After announcing my local craft classes last week, I was a little worried all my non-local readers might be a little jealous. Well, this one's for you!
I'm now working with Vayable as a tour guide in this fair city. Vayable has such a cool concept – if you're travelling, the best way to really get to know a city is with a local as your guide. Vayable is a little like AirBnb for tours – locals in come up with a tour they'd like to give in their city, and then they post that tour on Vayable. If you're planning a trip to Ireland, you can search for Dublin and find my tour! But just like AirBnb vets apartment offerings, Vayable vets their tour guides so you know you can trust what you're getting is going to meet a certain standard.
My Dublin tour is called Made in Dublin – which we all know is a topic I get so excited about! I love sharing the awesome things Dublin's designers, crafters, makers, and bakers are doing with anyone who will listen. If that's up your alley, get in touch!
Oh, and if you happen to be travelling to Paris, check out my friend Anne's tour!