Since we returned from Italy, I've been ranking Venice and Verona ahead of Florence. But looking at these photos again has me reconsidering!
We spent twice as much time in Florence than we did in Venice and Verona, and I think I would have preferred that extra day in Verona instead of Florence. Mostly because of the sheer number of tourists milling about. I found it a little difficult to get from A to B without tripping over someone.
This was the front "lawn" of the Palazzo Pitti. It was so funny to see everyone sprawled out on the concrete taking in the sunshine!
Our B&B was about four blocks from the Duomo and wherever you walked, you could see it peeking through the tall buildings. It was one of my favorite parts of Florence – the building is just so intricate and imposing.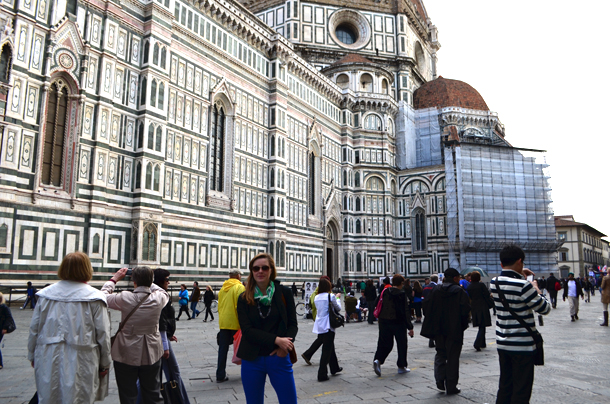 See? The tourists are everywhere – and this was early in the morning!
On our last morning in Florence, we got in line early to go inside the Duomo. It was such a let down compared to the outside of the building. Although the floor was very fancy!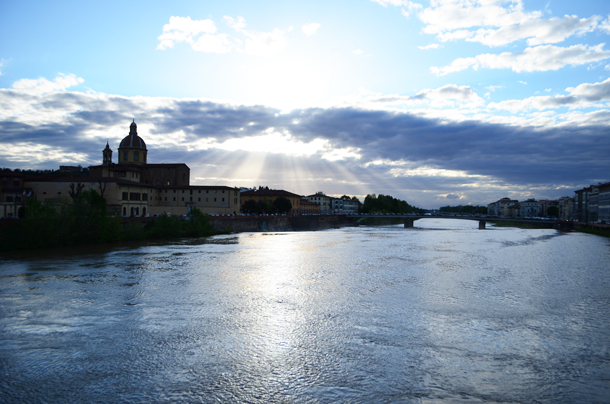 In Florence, we stayed in another pristine B&B. The building was very, very old. The ceilings in our room must have been 20 feet tall and they were beautiful old painted beams. The interior of the old building had been renovated and had a great mix of modern and ancient furnishings – think old Victorian dressing tables with lucite chairs. I think my sister found it a little echo-y, but wear ear plugs and slept like a baby!
And again, our host was so gracious and sent us off with lots of recommendations. Her recommendation for gelato was the best we had during our whole trip. She sent us to Grom, where Carolyn and I both had a cone with extra dark chocolate and salted caramel gelato. All day, the line was out the door!
We found Florence very easy to walk around – we walked from end to end several times – but the sidewalks are narrow and you have to share them with lots and lots of tourists. It was so nice to get away from crowds and walk along the deserted streets over by the Botanical Gardens.
Where we stayed:
B&B Gattopardo
Via dei Magazzini, Florence, Toscana 50122, Italy