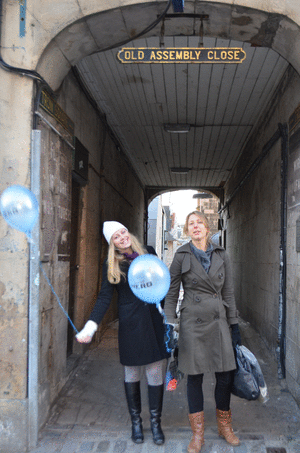 Walking near St. Giles Church in Edinburgh last weekend, these sweet cafe workers from Caffe Nero kept coming outside with little bites of paninis and mini hot chocolates for passers by to try. Then they came out with balloons, and some how my darling friend Carly and I got stuck with them.
But then they became these funny props for photos at the entrance of one of the alleyways off the Royal Mile.
Thanks to dear Naomi for taking these cute photos!
And now, some links I've been wanting to share from around the interwebs this week.
The new cool way to find stuff to do when you travel. They're expanding, thanks to a big investment by Etsy founder and Ashton Kutcher. Strange combo!
Thank you letter etiquette. Such a great step-by-step explanation.
The printing process, each day this week. Block printing, letterpress, die cutting, off set printing.
I lost my canning nerve when I moved to Dublin (not that I did much canning in America other than watch my mother make strawberry jam!), but I can't wait to fill some mason jars, a la this fellow ex-pat and her marmalade. Yum.
Oh, and speaking of festivities – isn't this a sweet idea for celebrating a birthday? And a re-fillable pinata!
I hope you all have a lovely weekend!