Happy Friday, everyone! Did you have a nice week? Mine was slow and fast at the same time. Do you ever have those weeks? Work crawled by but everything else went by so quickly!
I'm looking forward to the weekend – I'm working on a big project and hopefully I'll have something to show for it next week! I'm also planning to do a little baking – and these pumpkin recipes are all on the list. Maybe I'll just make them all!
(If you're looking for canned pumpkin in Dublin, Fallon & Byrne has some in stock, or you can order it here. If you're looking for it in America, go to the grocery store, lucky goose!)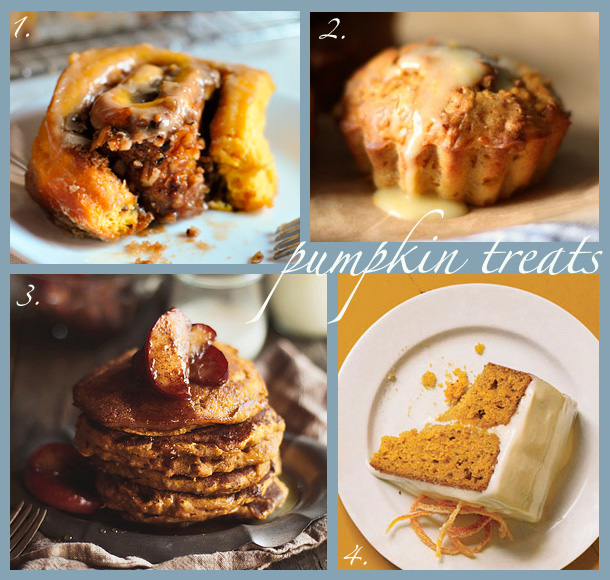 1. The Kitchn's (Amazing) No-Knead Pumpkin Rolls – I've posted about these before, but they are that amazing and that easy. They're for sure happening this weekend.
2. Pumpkin Carrot Muffins with Orange Glaze – these look like they'd be a great afternoon snack with a cup of tea. All those veggies, they'd be practically healthy!
3. Whole Grain Pumpkin Pancakes with Apple Maple Compote – those would make one cozy breakfast.
4. Pumpkin Spice Layer Cake with Caramel and Cream Cheese Frosting – If Michael wasn't insisting on cheesecake for his birthday next week (some nerve, right?!), I'd be making this.
Do you have a favorite pumpkin recipe? I'm also thinking of trying these pumpkin chocolate chip brownies, and I'm on the hunt for a great pumpkin chocolate chip cookie recipe like they had when Michael and I were at Colby. I even contemplated emailing the dining hall to ask for the recipe! I still might.
Have a lovely weekend, readers! See you next week!