I missed you all yesterday. I worked late and then spent two hours trying to convince the internet company that we really do live in this house and could you please, please re-connect our internet and phone?
I won in the end, but it was tough going there for a while. Especially since I had big, pot pie plans for the evening.
Since the Irish Food Blogger Association announced this competition last month, I have been so excited to enter. They're choosing four recipes for a cook-off later in April, and then two winners get to go to Germany for a weekend of food blog writing and photography. Too exciting. And what a giant help – sadly, sometimes I don't even post about the fun things I bake because I know I can't make them look as great as they taste!
One of the goals of this competition is to highlight Irish beef, which I think is awesome. If there's one thing I love about Ireland it's the butcher. We always buy our meat at O'Mahoney's in Coolock and the it is always better quality and better value than anywhere else. Hard to beat it.
Another goal of the competition is to showcase Irish food to the international community, which I also think is great. I find traditional Irish food comforting and cozy and filling. Guess what this pot pie is? Comforting and cozy and filling. Check, check, check.
So here we go. My first contest entry since grade school. Beef Pot Pie with Cheesy Bread Crust. (And aren't those individual ramekins from Stock the cutest? Love.)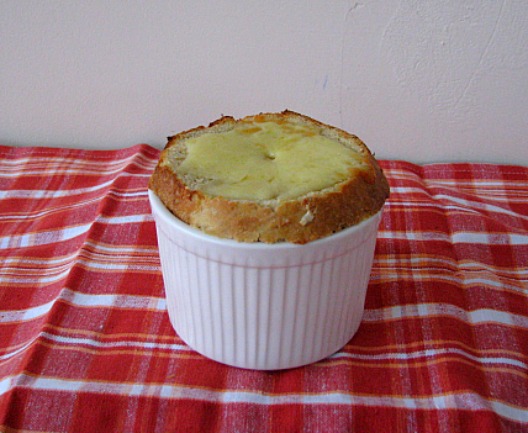 This Beef Pot Pie isn't your typical pot pie. There's probably some kind of technical rule that pot pies have to have pastry crust, but I'm breaking all the rules. The crust is always such a tease. It's so yum but there's not enough. So I thought this would be more satisfying and it totally is. The bread soaks up the filling on the bottom but stays crusty on the top.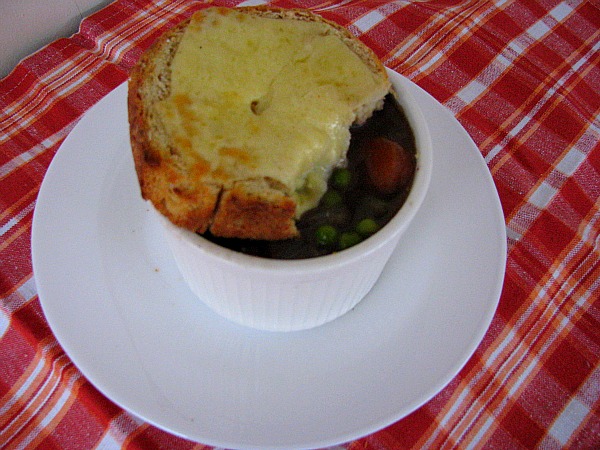 Beef Pot Pie with Cheesy Bread Crust
Filling
This would definitely serve 8, so feel free to halve it or freeze some!
500 grams stew beef, in bite-sized pieces
5 carrots, chopped
4 onions, chopped
2 cups red wine
2 cups beef broth
1 package button mushrooms
1 cup frozen peas
1 tsp thyme
2 bay leaves
1/2 cup water
2 tbsp flour
salt and pepper
In a big soup pot, heat a teaspoon of olive oil on high heat and add in the stew beef, browning it on all sides. Add in 2 chopped carrots, 2 chopped onions, thyme and bay leaves and red wine. Lower the heat to medium-low and simmer for 1-2 hours. I always just check a piece of the beef to see how tender it is. Smaller pieces will obviously take less time to get really tender.
When the beef is tender, add in the beef broth and the remainder of the carrots and onions, and the mushrooms. Cook until the vegetables are soft but still have a little life left in them! Mix the water and flour and pour in to the pot. Let the pot pie filling thicken for about 15 minutes on medium heat. Add in the frozen peas and season with salt and pepper. You might want to test a few big, yummy spoonfuls, just to make sure you've got the seasoning right.
Now on to the cheesy bread crust! You can really use whatever bread recipe you like for this part, but I really like this recipe. It's adapted from here.
Honey Oatmeal Bread
1 1/2 cups water
1/4 cup honey
1/3 cup olive oil
5 1/2 cups all purpose flour
1 cup quick cooking oats
2 tsp salt
4 1/2 tsp active dry yeast
2 eggs
Heat the water, honey and olive oil in a saucepan until it's warm. Mix the dry ingredients together, saving 1/2 cup of the flour out. Pour in the warm mixture (take care it's not too hot or you'll kill the yeast – just warm and the yeast will be very happy) and mix until it starts to combine. Then add the two eggs and mix – I usually do this part with my fingers. It gets pretty sticky, but I think it works best. Add the remaining 1/2 cup of flour and knead until it's just barely sticky.
Put the dough in a bowl, cover it with a clean dish towel, and let it rise in a warm spot for an hour. Then divide the dough into two medium loaf pans and let it rise in a warm spot again for another hour. Bake at 350F/180C for about 45 minutes or until it's brown and toasty on the top and hollow if you tap on the top.
Assembly
Here's the easy part. Pour the filling into individual ramekins almost to the top. Slice the bread and cut off the corners so it fits roundly on top of each ramekin. You could leave it at that and just toast the bread under the grill in the oven until it's browned and crispy and starting to soak up the filling on the bottom. But I couldn't stop there. I shredded some cheese on top of the bread, popped the ramekins in the oven and let the grill toast them up.
I think this would be a great recipe to have on hand for a dinner party – make the filling and the bread the day before (or even a month before since they both freeze well!), then just assemble them and pop them in the oven when your guests arrive! Absolute yum.
So there you go! Irish comfort food with this American chick's twist! Fingers crossed it makes the cut! Don't worry, I'll keep you posted!